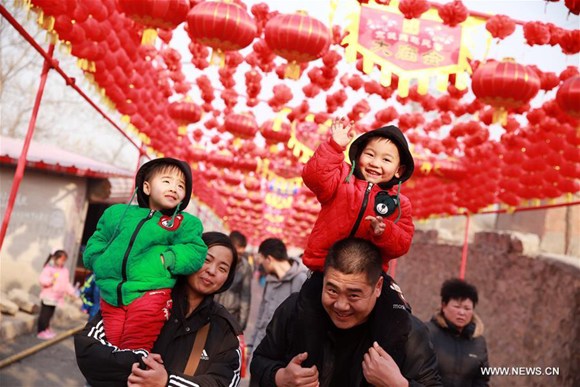 People visit a temple fair in Shijiazhuang, capital of North China's Hebei province, Feb 18, 2018, the fourth day of the Spring Festival holiday. (Photo/Xinhua)
The Chinese people are happier, have more security and a better sense of achievement, said a study published on Monday.
According to the annual livelihood survey co-launched by CCTV Finance, the National Bureau of Statistics and China Post, the good life index in China reached 102.44, a bit higher than the standard 100 points.
Postcards carrying the questionnaire are sent to 100,000 households in 104 cities and 300 counties in 31 provinces, municipalities and autonomous regions across the country every year.
Confidence in household income rising
South China's Hainan province tops the list of confidence in household income rising as 60.24 percent of the surveyed households there are confident they will earn more in the new year. East China's Anhui and Jiangsu provinces respectively take the second and third place.
The result shows that the gap between China's eastern and western regions is narrowing, with northwestern Qinghai breaking into the top 10.
Women more active in investment than men
The survey finds that women's willingness to invest has remained higher than men's for two consecutive years.
But men prefer higher-risk investment like stocks and futures while women prefer insurances, financial products, funds and gold.