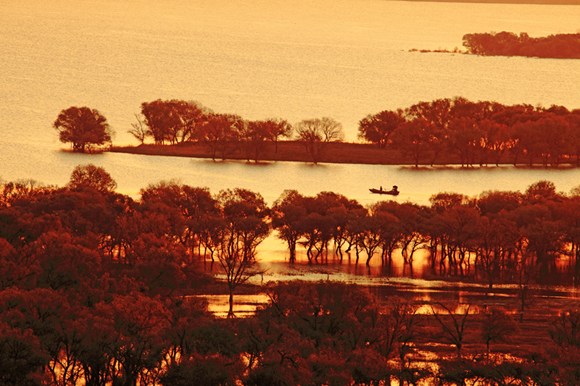 Xianghai National Nature Reserve in Tongyu county, Jilin province, is an important wetland for migratory birds. (Zhu Wanchang/for China Daily)
The country is planning to build a national parks system to promote ecological harmony.
As a conservationist, 27-year-old Wang Chunli knows what a rewarding yet bumpy ride the country must take before reaching its "Beautiful China" destination by the middle of the century.
For the past two years, she has been wrestling with the paradox between humanity and nature.
In December 2016, Wang paid her first visit to Xianghai National Nature Reserve in the northeastern province of Jilin. She was amazed by the rich landscapes, but shocked by the severe human disturbance in the reserve.
"I didn't expect so many people to be living in a nature reserve. There were even residents among the habitat of red-crowned cranes and in the heartlands of rare plants," she said.
The reserve, built in 1981, is an important wetland for migratory birds to reproduce and refresh themselves during their journeys. It sprawls across more than 1,000 square kilometers and 12 villages in Jilin's Tongyu county.
More than 15,000 people are still living in the reserve. Before 2015, 30 percent of the core zone, in which human activity is strictly prohibited, was farmland.
Zhang Xuejun, who was born and raised in Xianghai, has witnessed firsthand how humans have occupied the reserve.
"When the wetland was first built, everyone appreciated the pleasant environment. But when they saw that putting sheep out to graze was lucrative, they all rushed to grab land in the core zone," the 56-year-old said.
Initially, the local government sent out patrol teams to control illegal grazing. But the move was only partially successful because grazing was not limited to a single location.
In recent years, the provincial government has attempted to solve the puzzle with a resettlement project.
It demolished 248 houses and shacks, returned 6,711 hectares of farmland to grassland and every year the villagers are given 8,000 yuan ($1,260) as reimbursement for every hectare they have lost.
However, driven by the profit motive, people still catch rare birds and poison fish in the core zone.
"The biggest challenge is to coordinate ecological protection and community development, by which the government can cooperate with NGOs," said Wang, who has been running a pilot program since 2016.