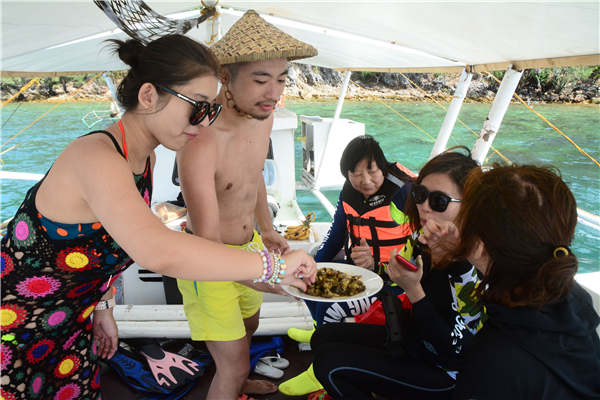 Chinese tourists flock en masse to neighboring countries. As of early January, bookings to destinations in Southeast Asia, Japan have been brisk for the Spring Festival. (Photo provided to China Daily)
The surge in outbound tourism shows no signs of abating over Spring Festival as Chinese travelers continue to embrace their wanderlust.
Increasingly favorable visa policies, easier and more abundant travel options and rising incomes are continuing to fuel Chinese people's enthusiasm for travel.
Zhang Jianxun routinely likes to get away at weekends and during major holidays.
"I felt traveling was the only way for me to relax after intense periods of work," says the 32-year-old resident of Hunan province's capital Changsha.
The owner of a private English language training business often spends two or three days in Shanghai, Guangdong province's Guangzhou or Zhejiang province to recharge his batteries.
"It's nice to have a change of scene in a matter of just a few hours, and the high-speed railway network has made travel short and sweet," he explains.
Zhang recently had an eight-day trip to Dubai with his parents in mid-January.
"I noticed Dubai has a visa-free policy and I have always been curious about the special charm of the Middle East, so I went for it," he says.
Zhang is one of the ever-expanding army of Chinese travelers, who have left their footprint in all four corners of the world.
Chinese people made 129 million overseas trips in 2017, a rise of 9.17 percent compared with the previous year, according to the national tourism work conference meeting held in Xiamen, Fujian province, in early January.
It has consolidated the status of China as the world's biggest source of outbound travelers.
This number is expected to grow by 4.5 percent year-on-year to reach 134 million by the end of this year.