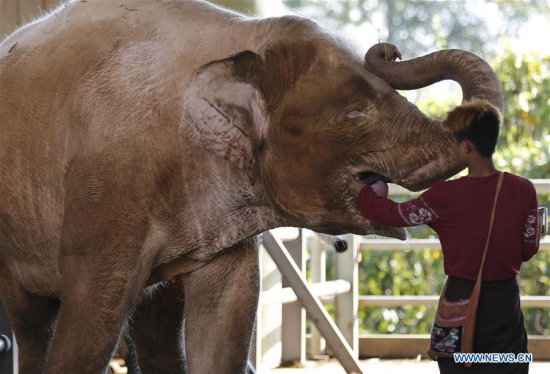 An elephant food seller feeds sugarcane to a white elephant at a shelter in Nay Pyi Taw, Myanmar, Nov. 17, 2017. (Xinhua/U Aung)
China's Yunnan Provincial Investment Holding Group has signed an agreement with the government of northern Lao Sayabuly Province to build the Asian Elephant Species Protection, Breeding and Rescue Center.
The agreement was signed on Saturday on the sidelines of the International Elephants Festival and Visit Laos Year 2018 in Sayabuly province.
The deal aims to protect, breed, rescue and provide assistance to popularize the endangered animals particularly Asian elephants and to promote tourism in the province.
Yunnan Provincial Investment Holding Group was welcomed by the Lao President Bounnhang Vorachit to invest in the elephant protection center in Laos. He also expected more investment in Lao infrastructure and other sectors, said a press release issued by the Chinese company.
The local government will give strong support to the project which is expected to promote local tourism. The development of the industry may make Sayabuly a landmark tourism city for Chinese visitors, said the Lao president.