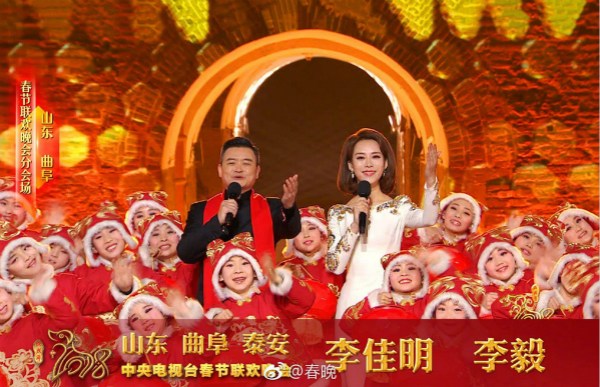 Hosts at the Qufu sub-venue greet the audicence. (Photo via Chunwan Weibo)
The 2018 Spring Festival Gala, or Chunwan in Chinese, is being watched by millions of Chinese worldwide, as families and friends get together to bid farewell to the old, and usher in the Lunar New Year – the Year of the Dog.
Among the Spring Festival celebrations, Chunwan has become an important ritual for Chinese people.
Along with the usual singing and dancing, traditional instrumental music, Chinese operas, comedies and martial arts, traditional culture has been the focus of this year's Gala.
Venue: Confucius' hometown
This year's gala is being staged at five different venues. Besides the main venue in Beijing, the cities of Qufu and Tai'an in East China's Shandong Province are among the four sub-venues, due to their significant role in the development of Chinese civilization.
The performance at the sub-venue in Shandong began with numerous people reciting Confucius' maxims, taking the audiences back to the ancient times when virtues ruled.
Qufu is the hometown of Confucius, China's most renowned philosopher, but he is also famous worldwide – even more so today thanks to Chinese culture's growing popularity across the globe. In recent years, Confucius Institutes have opened in quite a number of countries and regions, enabling those who are interested in China to learn more about the country.