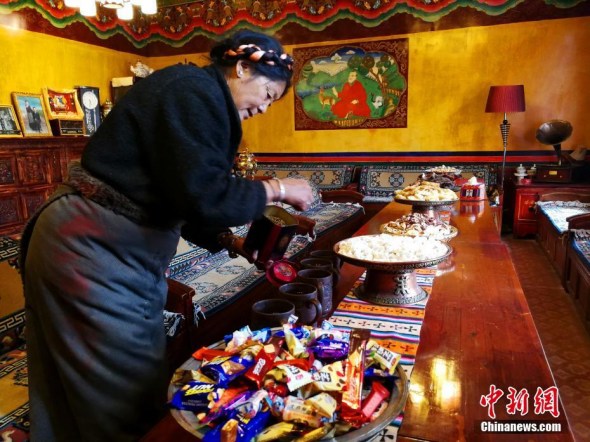 A Tibetan lady prepares for celebration of the Tibetan New Year in Lhasa, Tibet on Feb. 14 (Photo: China News Service/Zhao Yan)
As Chinese celebrate traditional Lunar New Year, the most important festival of a year, Tibetans are even happier as the Tibetan New Year coincides with the Spring Festival this year.
Both the Spring Festival and Tibetan New Year fall on Friday. On the eve of the double New Year, locals were busy buying goods on streets flanked with booths in Lhasa, capital of the Tibet Autonomous Region.
With her 68-year-old husband Luo Yunxue, Degyi Zhoiyar, a Tibetan in the city's Chengguan District, prepared both Tibetan delicacies and filled dumplings, or "jiaozi", to observe the festivals. Luo, an ethnic Han, has been living in Lhasa for more than 20 years.
Traditional New Year celebrations extend from cities to towns and pasturing areas in the southwest China region.
In his new house, Yangla, a Tibetan herder in his 60s in Amdo County, gathered with his children, taking Tibetan food while watching TV on the eve of the New Year.
"I have more than 1,000 sheep and 300 yaks," said the herder, who lives at an altitude of above 5,000 meters.
Residents who just shook off poverty danced in front of their new homes in Tingri County, Xigaze, to celebrate their new life.
To observe the festivals, government staff in Tibet enjoy a 10-day holiday starting Friday.
"Chunlian" or Spring Festival couplets, in Tibetan language, has been increasingly popular in recent years in the autonomous region. The couplets are traditionally mounted on gate posts or doors to convey good wishes for the new year.
"I sell Tibetan couplets each year in recent years. This year, the Tibetan couplets sell very well," said a dealer surnamed Bai in Lhasa.
"This is the first time I buy Tibetan couplets. The Tibetan and Han ethnic groups celebrate traditional New Year on the same day. Posting Tibetan couplets is a celebration of the two festivals," said Drugla, a Tibetan in Baqen County.
Some Han residents like Tibetan couplets, too.
"I have been here for ten years and has many Tibetan friends. This year, I chose Tibetan couplets so that my Tibetan friends understand my wishes when they come to greet me," said a resident surnamed Xiong in Lhasa.
Qamba Sangye, a Tibetan teacher who wrote Tibetan couplets for sale for the first time, said the couplets were about health, harmony, prosperity and safety.
"Some couplets highlight the Tibetan-Han friendly feelings," he said.
This year is the Year of Dog in the 12-animal Chinese zodiac. In Tibetan culture, the dog is also revered as a positive image representing loyalty and integrity.
Dogs are close friends of people on the plateau, said Cedain Zhaxi, a professor at Tibet University.
In Nyingchi, a plate with diverse food items is offered to dogs by villagers who believe the animal can predict the luck for the coming year.
"It is actually the government's good policy which has brought us a good life," said Urgyen Cering, Communist Party chief of a village.