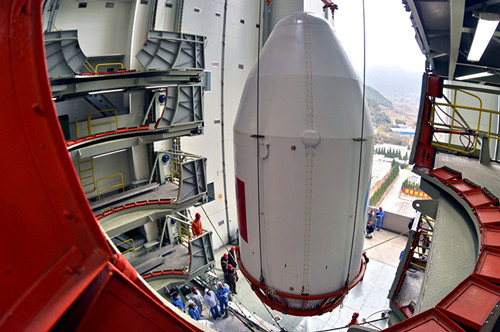 Technicians at the Xichang Satellite Launch Center, Sichuan province, and employees of China Aerospace Science and Technology Corp hoist a payload fairing before assembling a carrier rocket on a launchpad at the center. [Provided to China Daily]
Satellite network will provide data for countries participating in the Belt and Road Initiative.
When cyclists use one of the Mobike or ofo shared bikes that seem to dot almost every major city in China, they probably don't relate the colorful two-wheeler in front of them with a state-of-the-art spacecraft in orbit high above the Earth.
But without the navigational and positioning services that satellites provide, the entire bike-sharing sector would be no more than a pipe dream.
Similarly, without satellite-based navigation devices, tourists and motorists would find that making their way around a megacity or an unfamiliar place would be like solving a puzzle in the dark.
"Like electricity, satellite-based navigation and positioning services have become an indispensable part of people's lives," said Chi Jun, a senior project manager for the China Academy of Space Technology at China Aerospace Science and Technology Corp.
"If these services malfunctioned, our lives, work and even the national economy would be extensively affected."
To ensure the stability of the services, China continues to build and improve the domestically developed Beidou Navigation Satellite System.
It is one of the nation's largest space programs and the fourth space-based navigation system in the world, following GPS in the United States, GLONASS in Russia and the European Union's Galileo system.
On Monday, the fifth and sixth third-generation Beidou satellites were sent into space atop a Long March 3B carrier rocket from the Xichang Satellite Launch Center in Sichuan province.
They are now working from a medium Earth orbit thousands of kilometers above the planet, and will operate for at least 12 years in space, according to the China Satellite Navigation Office.
Pressure
The vast space-based network is now on a fast track to achieving global coverage capability as a result of the efforts of numerous scientists, engineers and workers, said Chi, from the space technology academy, the biggest developer of Beidou satellites.
"We were under great pressure when the research and development program for Beidou's third-generation satellites began in 2009 because all the components of the new-generation model were new to us," he recalled.
"We had to develop them on our own and overcome a range of technical difficulties."
There were huge differences between the technologies used on the new model and those employed in previous generations, resulting in scientists and engineers spending a lot of time producing and verifying countless solutions, he said.
Chi added that many of the scientists also had to make time to participate in the development and production of second-generation satellites.
In the years that followed, scientists and engineers overcame a host of unprecedented technical obstacles and also designed a long-endurance, lightweight satellite platform, an intersatellite data link system and advanced self-navigation technology.
Their achievements meant the time spent on research and development for the third-generation Beidou satellites was much shorter than for previous models, Chi said.
In November, the first two third-generation Beidou satellites were launched from the Xichang center, and in January, two more took off from the same center.
Upgrades
Engineers are continuing to upgrade the Long March 3 series with new capabilities that will allow them to better serve Beidou missions, according to Jiang Jie, chief designer of the Long March 3 carrier rocket family that is used to transport the satellites into orbit.
In the early years of the Beidou project, before engineers succeeded in modifying the rockets' flight and ground-control systems, they were only able to place satellites into geostationary orbits.