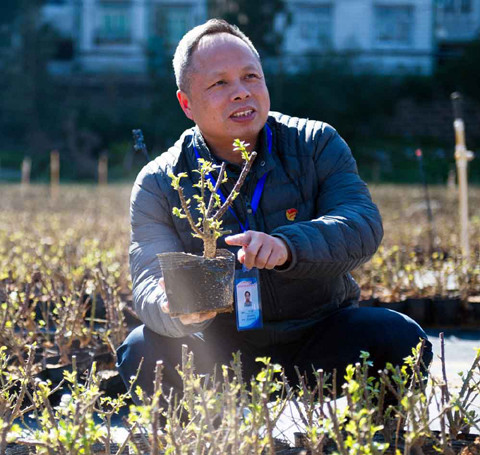 Ye Zhiyong is helping turn Pingtan Island green. (Photo / China Daily)
To Ye Zhiyong, islands should be as verdant and lush as his home-the forested Xiamen Island in southeastern Fujian province. However, about 250 kilometers to the northeast, the scenery on Pingtan Island brought to mind a sense of desolation when he arrived in March 2012.
Ye, deputy Party chief of Pingtan Urban Investment Co, was originally supposed to work in Pingtan in a temporary post for three years and return to his home in Xiamen.
Barren land and a lack of water were the main challenges when he was assigned to build a green belt of trees to fight soil erosion. "I knew nothing on arrival but I knew it's much harder to plant trees here than in Xiamen," he said.
The first step was to repair the soil. Ye and his colleagues found a chicken farm that could produce fertilizer from feces. Ye told them how to make it and the farm introduced a production line. The farm, he said, is now a leading company on the island.
Water conservation also was vital. Ye and his colleagues erected water tanks to retain rainwater that was later used to water plants. Meanwhile, a wastewater disposal facility was established to recycle used water.
In addition, aligning trees and plants also was a major consideration, as they had to survive strong winds. Suitable flower seeds and trees were located that could withstand the sometimes harsh environment.
By the end of 2016, more than 11,000 hectares had been planted with 70 million trees. More than 35 percent of the land was forested. Local authorities said more than 500 million yuan ($79.4 million) had been spent. A belt of forests had been built to effectively control soil erosion, according to the Forestry Research Institute of Fujian.
What Ye and his companies have done is in line with President Xi Jinping's call for Fujian to continue to boost its ecology. Xi has said that ecological resources are the most precious, and, in this regard, the environment is Fujian's most competitive advantage.
A guideline on the National Ecological Civilization Pilot Zone (Fujian) was adopted by the Central Leading Group of Deepening Overall Reform in June 2016, making the province China's first such pilot zone.
When his endeavors successfully controlled soil erosion and wind-borne dust, provided tap water and nurtured tree growth, Ye said he decided to stay. "After several years of hard work in Pingtan, this place has become a second home for me."
His contribution saw him elected as a delegate to last year's 19th CPC National Congress. Ye said he was particularly interested in the part concerning ecology in Xi's report to the congress.
"In the next step, our goal is to build Pingtan into a city embroidered with diverse trees and flowers, which can bid for the status of a national forestry city," Ye added.