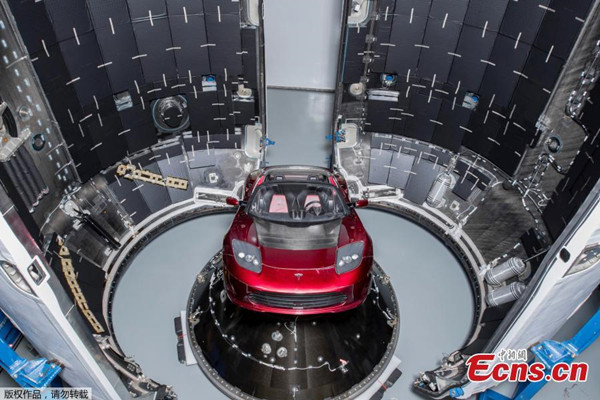 A red Tesla Roadster is seen during preparations to use it as a mock payload for the launch of a SpaceX Falcon Heavy rocket, in Cape Canaveral, Florida, U.S. December 6, 2017. (Photo/Agencies)
The successful test flight of the U.S. Falcon Heavy, now the world's most powerful carrier rocket, has provided experience to China's space sector as the nation strives to design its own super-heavy rocket, according to industry insiders.
The 23-story jumbo rocket, carrying a Tesla Roadster electric sports car as a mock payload, blasted off at 3:45 p.m. on Wednesday at Kennedy Space Center in Cape Canaveral, Florida.
The gigantic launch vehicle, propelled by 27 engines, was developed and built by Space Exploration Technologies Corp, popularly known as SpaceX, and has been regarded as a new milestone of the U.S. space endeavor as well as a remarkable victory for technology tycoon Elon Musk, the head of SpaceX and Tesla.
Many scientists, researchers and engineers working for China's space programs expressed congratulations for the success, calling it exciting news for the space industry, not only in the United States but around the world.
Yang Yuguang, senior researcher at China Aerospace Science and Industry Corp, told China Daily that Chinese space workers appreciate SpaceX's spirit of innovation and creativity and are determined to continue to explore their own road maps toward success.
"The rapid rise of SpaceX can't be copied in China because NASA has granted it an unprecedented level of support, ranging from infrastructure and technology to experience," he said. "That is why it has been able to grow so fast. By comparison, we have to accumulate experience and technology on our own."
However, some of the U.S. company's technical approaches can be considered by Chinese researchers as a reference, Yang said, noting China should particularly research and learn its expertise in producing and optimizing rocket engines.
He also said that Wednesday's test flight, though, ended well despite involving too many risks, since SpaceX appeared to be in a hurry to carry out the mission. "We should be steadier and more stable in developing and testing our next-generation rockets and try to avoid too many risks," he said.
Pang Zhihao, a manned spaceflight researcher at the China Academy of Space Technology, said Chinese rocket designers could draw on the experience of their counterparts at SpaceX when they develop China's heavy-lift rockets.
He explained that the Falcon Heavy uses 27 engines, a practice avoided by previous rockets around the world due to the technical complexity and risks, and the audacious attempt by SpaceX could open a new door in designing rockets.
Shu Chang, chief executive of OneSpace Technology, a privately owned startup in Beijing that builds carrier rockets, said compared with industry giants such as SpaceX, China's private space companies are inexperienced and must race against time to catch up.
"Private enterprises dare to innovate and face challenges, also are good at maintaining low costs. Any space player will not be a real power if it doesn't have some competitive private space firms, which play an irreplaceable role in stimulating innovating and controlling costs," the businessman said.
He also noted that Chinese rocket designers could benefit from SpaceX's experience in corporate and project management. Shu's remarks were echoed by Wang Yanan, editor-in-chief at Aerospace Knowledge magazine. Wang said the Chinese government should consider opening State-funded space programs such as manned spaceflight and lunar explorations to private firms.
"The government doesn't need to worry about private companies' confidentiality and competence as they will be bound by policies and contracts," the editor said. "Their participation will boost efficiency and reduce costs in this industry."