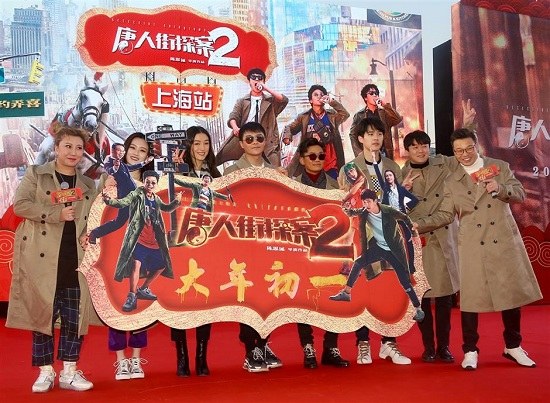 The main cast of "Detective Chinatown II," led by director Chen Sicheng (fourth from left), arrive in Shanghai to promote the film. (Dong Jun/SHINE)
"Detective Chinatown II," a comedy detective film directed by Chen Sicheng, will hit cinemas across China on February 16, the Chinese Lunar New Year's Day.
The film's actors Wang Baoqiang, Liu Haoran, Xiao Yang and Wang Xun were in town today to talk with local fans about the behind-the-scenes stories.
In the sequel, the detective duo of Chinatown embark on an adventure to New York to participate in a world detective contest.
The movie features diverse elements of comedy, action and suspense. The duo will use traditional Chinese culture and Western detective methods to uncover the truth of a mysterious case.
The Spring Festival holiday will be replete with an array of films, including military film "Operation Red Sea," comedy "The Faces of My Gene" and fantasy flick "Monster Hunt 2."