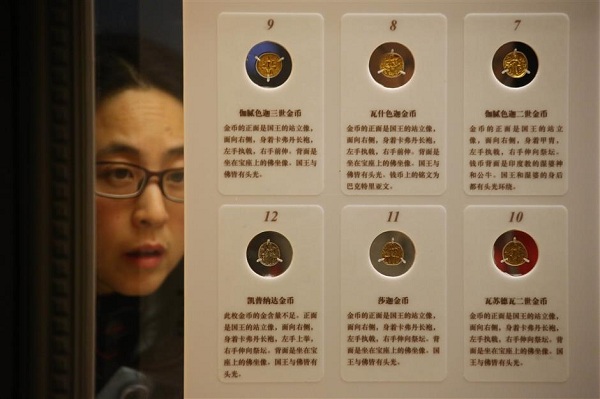 A visitor looks attentively at the different Kushan coins on display at the Shanghai Museum. (Wang Rongjiang/SHINE)
"The Beliefs and Arts of the Kushan Dynasty," on display at the Shanghai Museum, highlights the ancient empire's culture and arts through a collection of historical relics.
The Kushan Empire was a nomadic civilization on the northern steppes of Asia, influenced by Greece, Iran and India due to its strategic location at the crossroads of cultures.
From the first to the fourth centuries, the Kushan Empire included Central Asia and parts of South Asia, covering a key area of the Silk Road.
Kushan had a profound impact on these regions ─ from politics to economics and religions. As a hub on the ancient Silk Road, Kushan's stability made it a vital place for communication between the Han and Parthia, Rome and India.
"Although the Kushan Empire embraced all religions, it attached more importance to Buddhism," says Yang Zhigang, director of the Shanghai Museum. "The combination of Greek sculpture and Buddhist doctrine accelerated the spread of Indian Buddhism to the surrounding region significantly.
"Meanwhile, Kushan fused Hellenistic art into the local culture of Central Asia," Yang explains. "The integration of different art styles that happened in Kushan Empire made Central Asian arts more diverse in both content and form."
The Shanghai Museum exhibition is divided into several parts, including "Power and Monarch," "Faith and Culture" and "Business and Lifestyle."
The ancient coins, Buddha sculptures, ornaments and seals on display provide an insight into the past glory of the Kushan Empire. Among all the items, the ancient coins are a highlight.
"The identification of the pedigree of the ancient empire was mainly based on the study of Kushan coins and various historical records," says Yang.
As a mirror to the stability of a government, coinage usually does not change significantly. But dramatic changes took place in Kushan coins ─ from the king's image on the front side to the icons as reflection of peoples' beliefs on the back and the characters carved on the edge.
Such huge changes show the diversity of beliefs from the peripheral areas and the adaptations to new environments as the empire expanded.
Another highlight is a series of Buddha sculptures. The elements of Greek portraiture were embodied in expressing various faiths.
The fusion of Indian faith and Greek art gave birth to the "Gandhara Style," which offers a visual impact for people to better understand the deep meaning of Buddhism.
Exhibition details
Date: Through March 18 (closed on Mondays), 9am-5pm
Venue: Shanghai Museum
Address: 201 People's Ave