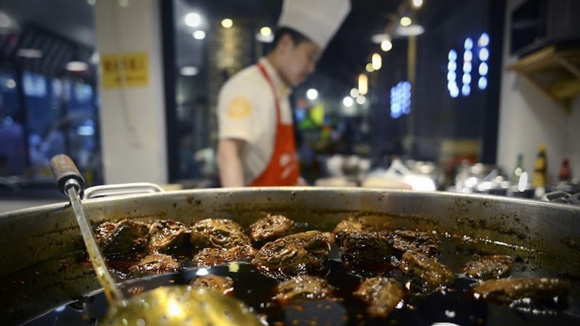 (Photo/CGTN)
The festive season has come to China with lots of events and celebrations that include gatherings over banquets, and inevitably consumption of oily food which could irk those who want to keep fit.
The nation's love for Western tastes has made fast food a lucrative business, satisfying stomachs all the while unsettling health agencies as an obesity epidemic looms large in the horizon. Fried chicken, french fries, burgers and pizzas are the usual culprits for the expanding waistlines in the country, but Chinese cuisine is as much to blame.
Sichuan poached sliced fish in hot chili oil, Kung Pao chicken and sweet and sour pork are some of a long list of famous Chinese dishes that never go out of season. They're popular, authentic and delicious. But they're also oily. As more Chinese adopt a healthier lifestyle, these dishes are slowly turning into a guilty pleasure.
"Chinese delicacies are irresistible to me," Luo Ying told Xinhua News Agency. "I've tried to go on a diet, but my Chinese stomach can't afford it for more than half a month."
The Chinese girl is not alone in her struggle to keep fit, while eating oily and salty food.
Zhou Zhijia knows how to deal with the problem. He joined physical exercises classes in 2002. In his opinion, Chinese dishes are not antonyms to staying healthy.
The president of Yuelaiyuexiang Food Group has achieved his fitness goal while keeping all of his favorite Chinese dishes but cutting down on oil and salt.
The president of the Shanghai Dianfeng Sports Management Limited Yu Anqi has pointed out that eating less staple food is another option.
One can be satiated for just a short period of time when consuming rice and steamed buns, Yu argued, adding that people should eat food with high levels of protein instead.
Wang Ru from the Science School of Shanghai Sports College said diversified coarse grains on Chinese dinner tables offer another healthy approach by helping with bowel movement and lowering blood sugar level.
China has been trying to turn the vision of a healthy nation into a reality by encouraging people to eat food with less oil and salt. /Reuters Photo
China has been trying to turn the vision of a healthy nation into a reality. The State Council issued the National Nutrition Plan (2017-2030) last July, only nine months after the Healthy China 2030 Planning Outline was issued.
"It is suggested to keep food diversified to get rich nutrition," said Wang.
Under a national guidance published in 2016, Chinese people are suggested to eat at least 12 kinds of food per day.
However, China has a long way to be a healthy country as obstacles persist.
According to a study published in the Lancet Medical Journal in 2016, 10.8 percent of men and 14.9 of women in the nation of 1.4 billion people are overweight. China now houses the largest overweight population in the world, pushing the U.S. to the second place.