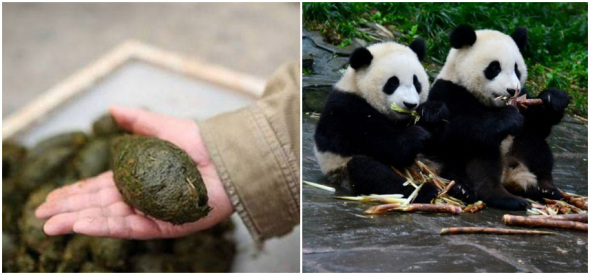 Combo photo of panda's excrement and pandas.
A Sichuan-based company is hoping to market the popularity of China's animal ambassador, the giant panda, into a niche form of toilet tissue, reports the Chengdu Economic Daily.
The China Giant Panda Protection and Research Center in Sichuan has signed an agreement with Qianwei Fengsheng Paper to offer panda droppings and food residue to the company to help it generate more of its bamboo-based toilet tissue.
Under the deal, food residue and droppings from the pandas at the bases in Dujiangyan, Wolong and Bifengxia are used to extract bamboo fibers via a process of washing, cooking and high-temperature processing for tissue making.
"An adult panda can eat 12 to 15 kg of bamboo, which four hours later, will turn into over 10 kg of droppings. Meanwhile, the pandas can also generate around 50 kg of bamboo residue per day when they eat. Turning this into tissue offers a perfect solution for us to deal with these waste," said a local staffer with the Panda Research Center.
"The essential part of making bamboo paper is to acquire bamboo fiber. The panda helps us extract fiber in its process of digestion and leaves the fiber in its droppings. We all get what we want in this deal," the chair of the paper-making company is being quoted.