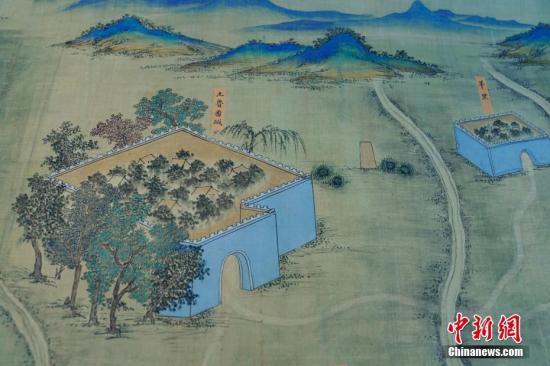 part of the painting Landscape along the Silk Road. (Photo: China News Service/Du Yang)
According to statistics released by the China Cultural Relics Academy, over 10 million cultural relics have been smuggled out of China since 1840 during wars or due to illicit trading. Many overseas Chinese have spared no efforts in finding and recovering these looted treasures.
Xu Rongmao, Chairman of the Shimao Group, recently donated a landscape painting to the Palace Museum that had been looted from China in the 1930s. The painting, Landscape along the Silk Road, dates from the Ming Dynasty. Xu spent 20 million U.S. dollars purchasing the painting from a private collector before donating it to the Palace Museum. "After learning that the Palace Museum was struggling to raise money, I felt it was my duty to return the painting to its motherland," said Xu at a ceremony to mark the handover of the painting to the Museum.
In 2015, a 1,000-year-old Buddha statue containing a mummified monk was put on display at the Hungarian Natural History Museum. Owned by a private Dutch collector, it was found to be a relic stolen from Yangchun Village in Fujian in 1995. Li Zhen, a Chinese Hungarian, has been working towards securing the return of the Buddha statue to China. He has submitted petitions to the Dutch Embassy in Hungary, appealed to the Dutch government for help, and held promotional events to raise awareness of the issue.
Overseas Chinese also help recover stolen relics through other channels, such as by establishing associations for their protection and return to China. On June 30, 2015, the Chinese Overseas Cultural Relics and Antiques organisation was established with the aim of offering a trading platform for people to bring back Chinese relics from abroad.