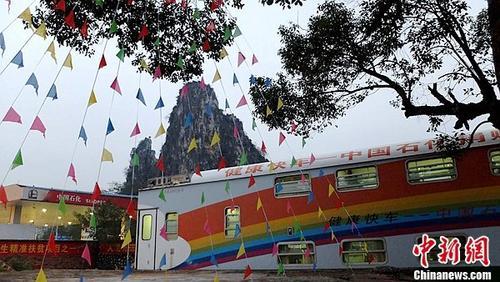 A train-turned hospital is seen in Guilin, South China's Guangxi Zhuang Autonomous Region. (Photo/China News Service)
Running through mountains and over rivers, a four-carriage train finally stops at a discarded farm in the Chinese tourist city of Guilin. It is painted with rainbows, symbolizing hope.
There is no long queue to buy tickets, but instead a line of poor cataract patients waiting for free surgery on this mobile train-hospital, commonly known as the Lifeline Express.
Xiong Zhilian, 49, was among the first batch of cataract patients to receive free surgery at the hospital.
"I recovered my sight. I'm so grateful for all the help given to me by doctors and volunteers," said Xiong, a villager from the county of Lingchuan in southern China's Guangxi Zhuang Autonomous Region.
Xiong had lived with cataract for four years. Due to his eye problems, he could not work to support himself and his elderly parents, relying on a basic living allowance from the local government.
Housing an operating room and a sickroom with 52 beds, doctors in the mobile hospital have performed surgery for 520 cataract patients since its arrival in Guilin on October 12. The youngest was just a year old, while the oldest was 91.
Cataracts are the most likely of all ophthalmic diseases to cause blindness in China. It is not just elderly people who are prone to the disease. Young people also suffer due to damage from ultraviolet rays, or genetic reasons.
The Chinese mainland has around 5 million people living with cataracts, a number growing by 10 percent every year, mostly in rural areas.
"The mobile hospital travels to remote poor regions every year and stays for two or three months at each stop," said conductor Wang Yuezhen. Before it arrived in Guilin, it had been to Kashgar in southern Xinjiang and the city of Baishan in Jilin Province.
There are four Lifeline Express trains on the Chinese mainland. Three were donated by Hong Kongers, and one was donated by Sinopec, one of China's leading oil companies.
As a national poverty relief program of medical assistance, the Lifeline Express trains have travelled across 28 provincial regions on the Chinese mainland and helped more than 180,000 cataract patients recover their sight since it was put into service 20 years ago.
In addition to offering free operations, the Lifeline Express program has helped built 69 ophthalmic surgery centers and invited foreign experts to help train local doctors.
"The program provides a good platform for us to learn from senior doctors in top Chinese hospitals," said Wen Lihui, an ophthalmologist from the Second People's Hospital of Guilin. Wen worked with other doctors on the mobile train in 2010.
The program also sent a medical team to Sri Lanka in late 2016 and offered free treatment for more than 500 local patients living with cataracts.
Addressing poverty caused by illness is the most difficult task in China's poverty alleviation campaign, affecting about 40 percent of the country's rural poor by the end of 2015.
"People don't forget the original purpose of the program. The trains will bring poor people better health and a better life," said Yuan Xuemei, an official from National Health and Family Planning Commission.
Xiong Zhilian can see clearly again. A better life for him means more money and a decent living for his family.
The Lifeline Express train will stay in Guilin for three months. Xiong's father, a cataract patient at his 80s, has recently received an operation notice from the mobile hospital.
Life has new hope now, and Xiong plans to plant oranges on the local mountain before migrating to a big city to find a job and make a fresh start.