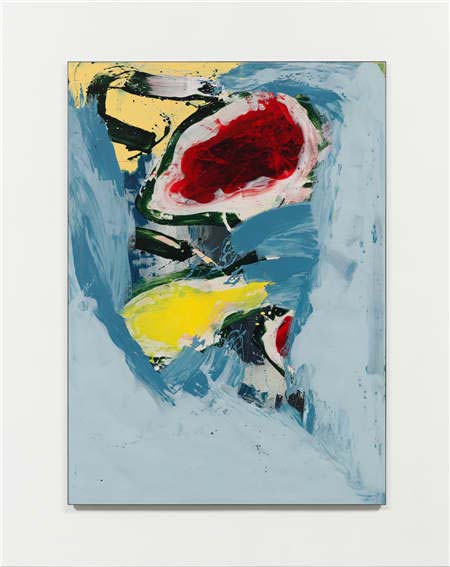 A painting by Ryan Sullivan. (Photo provided to China Daily)
A British art dealer says the audience for contemporary art in China is growing fast, especially in art hubs like Beijing and Shanghai, both of which she feels are "accessible, receptive and open."
British dealer Sadie Coles, 54, is recognized as a "legend" and "highflier" in the highly competitive art market. The gallery owner from London says the drive, excitement and potential she feels about Shanghai reminds her of Berlin in the 1990s.
After the fall of the Berlin Wall, the German capital was a flourishing art market, and a gathering of galleries and international artists pushed it to the forefront of the contemporary art world.
So it is with the art market in Shanghai, which Coles describes as "solid and serious".
"Shanghai has many private institutions and initiatives that offer a variety of platforms for artists, for exhibitions and for audiences," Coles says in an email interview.
She adds the audience is "engaged and highly inquisitive".
Coles' impression is based on her experiences at West Bund Art & Design.
Sadie Coles HQ, which she opened 20 years ago, will return for the third consecutive time to this premier fair in Shanghai, which will run from Friday to Sunday.
Meanwhile, the gallery will make its debut at Art 021, another major fair in Shanghai, which runs from Thursday to Sunday.
Works by more than one-third of the artists whom the Coles gallery represents will be showcased at the two fairs. Among them there are Swiss-born Urs Fischer, whose works were shown at the West Bund fair, and U.S. painter Ryan Sullivan, whose works are well received at major international art fairs such as Art Basel.
Coles says there will also be artists who are less familiar to the Chinese, including British artist Hilary Lloyd and Brazilian Adriano Costa.
"I always get an injection of energy from the high levels of interest expressed in our artists," says Coles.
"Our primary aim is to foster knowledge about our artists and our programs, and to spark new conversations. Conversations lead to collaborations, projects and sales."
One such project will be the first major solo exhibition in China by U.S. artist Jordan Wolfson, who works with Sadie Coles HQ.
The exhibition, titled Riverboat Song, will be open on Friday at Shanghai's Pond Space.
Wolfson's works will also be featured at Coles' booth at the West Bund fair.
Coles says a lot of her artists are "curious about showing their work in China ... and are interested in the new experiences and audiences which China offers".
China is not only a destination for Coles to expand her business. It is also the focus of talk in London's art circles over the past two months, sparked by two contemporary Chinese art exhibitions at her gallery: Zhongguo 2185 and Xuzhen Supermarket, which ended on Sunday.