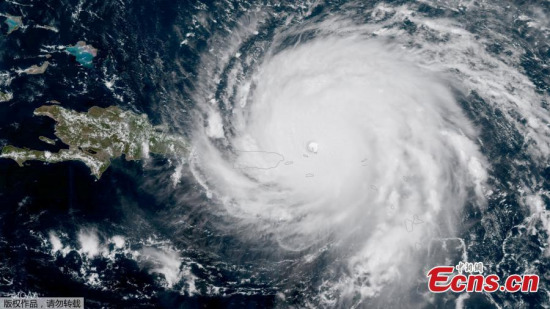 Hurricane Irma makes its way across the Atlantic Ocean in to the Caribbean -- a category 5 storm with winds as high as 185 miles per hour, Sept. 6, 2017. (Photo/Agencies)
Hurricane Irma hammered Puerto Rico with heavy rain and powerful winds Wednesday night after smashing several small Caribbean islands, and killing at least four people.
Irma, one of the most powerful Atlantic storms in a century, has left nearly 900,000 people without power in Puerto Rico. At least four people were reported killed on four different Caribbean islands.
The dual-island nation of Antigua and Barbuda was especially hard hit.Antigua and Barbuda Prime Minister Gaston Browne said nearly every building on Barbuda was leveled when the hurricane's core crossed almost directly over the island early Wednesday and about 60 percent of the island's roughly 1,800 people are homeless.
Irma, with maximum sustained wind speed of around 250 km per hour (km/h), was on track this weekend to reach the U.S. State of Florida, where evacuation has started.
Miami-Dade County officials are advising residents living in low-lying areas to start evacuating Wednesday, as well as individuals with special needs in Miami, according to the Florida Division of Emergency Management.
Monroe County, which lies on the southern tip of the Florida Peninsula including the Florida Keys, issued a mandatory evacuation order for visitors starting Wednesday morning, and for residents starting from that evening.
Broward County, to the North of Miami-Dade County, said all residents east of U.S. Route One must evacuate starting at noon Thursday.
The orders of evacuation come as the National Hurricane center modified the pathway of Hurricane Irma to cover the entire Florida peninsula after landing near Miami.
Rick Scott, Florida's Governor, warned in a news conference Wednesday afternoon in Monroe County that Floridians should take the hurricane seriously and not to take chances.
"The track now has a forecast of direct impact on the Florida Keys on Sunday as a devastating major hurricane. The Florida Keys should be prepared to start feeling the effects of this storm as early as Saturday," he said.
"A storm of this size could have effects statewide and everyone must be prepared...we all have to understand that this is serious and we cannot take chances," he said.
Scott said some 6,000 National Guards will be reporting to duty state wide.
"Storm surge and extreme winds are the biggest concern right now. This storm is bigger, faster and stronger than Hurricane Andrew," Scott said.
"We can rebuild your home, but we cannot rebuild your life," Scott said.
On Wednesday, Cuba's civil defense authority issued an alert for the country's central and eastern provinces to reduce potential damages by Hurricane Irma this week.
"Having in mind that, during the last 12 to 24 hours, Irma maintained the same speed and route, it was decided to establish the Alert Phase for the eastern provinces of Guantanamo, Santiago de Cuba, Granma, Holguin, Las Tunas, Camaguey, and the central territories of Ciego de Avila and Villa Clara," said the authority in a press release.
"State agencies, economic entities and social institutions of the provinces that are in the alert phase must comply with the measures provided for in their respective disaster reduction plans," reiterated the civil defense body in its statement.
It also urged the population to stay aware and keep track of information on the Category 5 hurricane, considered the most dangerous to face Cuba since Gustav in 2008.
Local forecasters indicated the storm is also the most intense hurricane ever recorded in the Atlantic.
On Wednesday afternoon, Irma battered the Virgin Islands but continued to move west-northwest at 26 km/h with sustained winds reaching 295 km/h. It is expected to affect eastern Cuba in the next 48 to 72 hours.
The last hurricane to hit the Caribbean nation was Matthew in October 2016, when it destroyed over 9,000 homes and properties but claimed no lives in the easternmost province of Guantanamo.