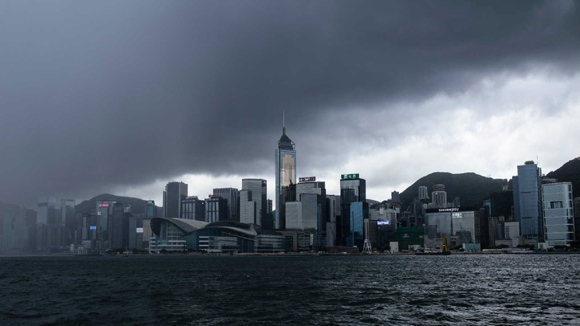 (Photo/CGTN)
Hong Kong on Wednesday issued Typhoon signal No. 10, the highest in its storm warning system, as the city braced for the arrival of Typhoon Hato.
The warning was issued by the Weather Observatory at 9:10 a.m. HKT. It warned that the severe Typhoon would be closest to the south of Hong Kong in the coming few hours as the winds strengthen significantly.
The Hong Kong Airport Authority said flight operations would be affected all day. At least 420 flights were cancelled, according to Hong Kong's TVB news.
The Education Bureau announced that classes of all day schools would be suspended on Wednesday.
Hong Kong Exchanges and Clearing Limited (HKEX) announced that the morning trading in its securities market, including Stock Connect trading, and derivatives market has been delayed due to Typhoon Hato. "If Typhoon Signal No. 8 or above remains issued at 9:00 am, the morning trading sessions for all markets will be cancelled," HKEX said in a statement.
The National Meteorological Center of China Meteorological Administration initiated the first red weather alert this year as Typhoon Hato is set to make landfall in southern Guangdong Province on Wednesday afternoon.