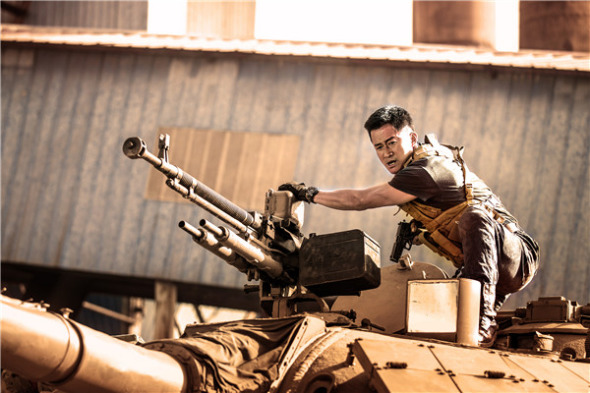 File Photo
Film distributors Cine Asia and CMC Pictures have expanded the UK theatrical run of Chinese cinematic megahit Wolf Warrior 2 due to "high demand".
Wolf Warrior 2 premiered in China on July 27 and is already China's top-grossing film of all time. The movie has generated $723 million in ticket sales as of Sunday, easily outdoing the $508 million Chinese box office record set by The Mermaid in 2016. Last week, the film bumped Forrest Gump off the list of 100 highest-grossing films ever.
The movie opened in the UK on Aug 4 in a handful of cinemas mostly in London. The action flick is now showing at 16 Odeon and Vue Cinemas in Edinburgh, Glasgow, Birmingham, Oxford, Leeds, Southampton, Liverpool, Manchester and Sheffield as well as the capital.
Nick Roberts, marketing manager at film company Trinity Film which owns Cine Asia, said he anticipates the film will gather momentum in British cinemas.
"The decision to expand Wolf Warrior 2 was inspired by the very high demand that we saw with the film on its initial launch in the UK," Roberts said. "The film launched on five screens in the UK and performed extremely well, amassing $30,000 from these five cinemas during its opening weekend."
Wolf Warrior 2 opened in one other major overseas market, Australia, on July 27, and took $81,000 on its opening weekend. The film generated more than $1 million over the following fortnight.
Sam Edwards, 28, a cinema goer at the Vue on London's Regent Street, said the film's record-breaking numbers had piqued his interest.
"I didn't see much publicity, I read an article and heard that it was incredible successful and I was just curious to see what it was like," Edwards said. "It's a great action film. For anyone who goes to these types of films, I don't see why they wouldn't enjoy it."
The film sees actor Wu Jing-who is also co-writer and director-reprise the role of Leng Feng, a Chinese special force soldier and protagonist of the first Wolf Warrior, which sat atop China's box office for one week in 2015 and generated $82 million.
Wu received a larger budget for the sequel and constructed a crew of veteran movie makers. Action sequences were orchestrated by Jack Wong, who worked on Chinese hit crime film Operation Mekong, and feature the stunt team behind John Wick and Captain America: Civil War.
In the film, Leng Feng goes on a one-man crusade to save the lives of Chinese workers and innocent locals caught up in the middle of bloody rebellion in a fictitious African nation. Leng battles against a team of hired mercenaries from the United States and Europe, including head villain Big Daddy, played by US actor and Prison Break star Frank Grillo.
The action scenes-including an underwater fist fight and a tank shootout-are thrilling, original and not for the fainthearted. Numerous limbs are lost in gun battles and explosions, and a graphic knife fight at the climax cements the film's R rating.