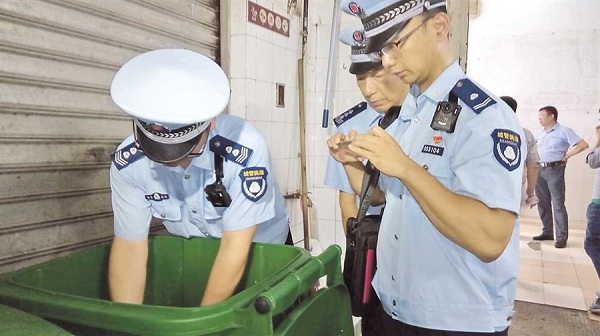 Civic inspectors check garbage bins at Landmark Department Store yesterday. (Chen Xihan)
A department store and an office building in downtown Huangpu District were yesterday ordered to take action or face a fine after an inspection by the city's urban management authorities found they were not sorting garbage properly.
The Shanghai Landmark Department Store on Nanjing Road E. was not separating dry and wet garbage, inspectors with the Shanghai Urban Management and Law Enforcement Bureau found.
A garbage bin used for wet trash contained dry branches and leaves, tissues, cigarette butts and plastic.
Shanghai Shenergy Property Management Co, the management company of the department store, was ordered to rectify to problem or face a fine of up to 1,000 yuan (US$147.50).
At the Xinhuangpu office building on Sichuan Road M., officials found two garbage bins without covers, and there was sewage on the ground and a foul smell.
Garbage inside was not sorted, with plastic boards, wood, tissues and wet trash mixed.
Shanghai Macro Home, the management company, was ordered to set up garbage sorting bins properly or face a fine of up to 500 yuan.
Shanghai imposed compulsory garbage sorting regulations on working units this year.
In the first half of this year, authorities have been promoting the new policy among companies.
The city is also trialing a "no sorting, no collection and no transportation" policy to force companies to sort garbage, the Shanghai Greenery and Public Sanitation Bureau said.
For households, Shanghai is offering incentives with its "green account" scheme. Green account holders earn points by sorting garbage. They can redeem the points for various sundry items such as milk.