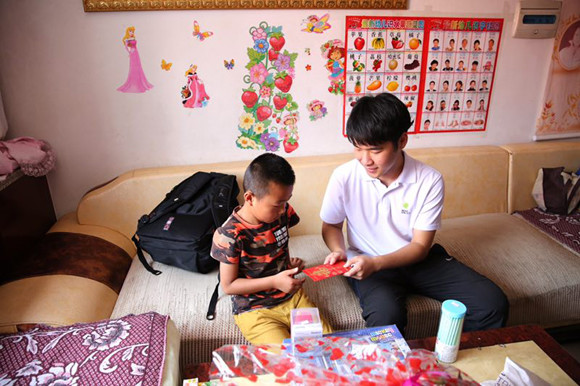 Shan Xizheng visits the home of Li Yufeng, one of the left-behind kids. (Photo: China Plus)
"The Bean Sprout's Volunteer Service's mission is to ensure everyone grows up with a Bean Sprout friend."
A total of 247 Left-Behind kids, the children of migrant parents who've moved to China's cities in search of work, came together for the "Zou Jin Hegang" encounter ceremony, organized by the Bean Sprout's Volunteer Service in Zhenxing Square, Hegang, Heilongjiang Province on Sunday. There they received school bags, basketballs, volleyball, and football equipment, all donated by the service, with some even receiving psychological counseling.
The Heilongjiang Bean Sprout Volunteer Service is the brainchild of Shan Xizheng, a Chinese overseas student who, two years ago, went to high school in America, at the Lake Country Lutheran High School. Away from his family and friends, he often felt lonely and homesick, and this loneliness affected his academic performance.
At the start of the summer vacation, Shan discovered online that there were approximately 125,000 left-behind children in Heilongjiang Province. Their loneliness caused problems such as shyness, low self-esteem, anti-social behavior and uncommunicativeness. The very next day, Shan decided to do something about it, and created the Bean Sprout Volunteer Service website, in both Chinese and English, to help left-behind children in China.
Once established as an idea, Shan Xizheng went further and devised a three-year, five-point action-plan to make a practical difference to left-behind children in China.
Focusing on children aged between 6 and 13, they aim to offer psychological counseling, health screening, material and spiritual support.
In addition to the help and advice carried on their website, they have developed a five point strategy - to provide health screenings, psychological support, tangible help, the creation of a Welfare system, and the promotion of family based activities.
In their aims, they have the backing of the Hegang Municipal party committee, Hegang Civilization Office, and the Hegang Education Department, in addition to the Red Cross volunteer team and around 50 representatives of left-behind children.
The launch ceremony saw the successful establishment of the Hegang Bean Sprout Volunteer Service Team, and the successful signing of an agreement with the Hegang Volunteer Association. The two sides agreed to jointly carry out online activities providing psychological counseling, health examinations, outdoor activities and the provision of study supplies.
"Volunteering should be a required course for each student. During my two-year period of study abroad in United States, I was often involved in volunteer activities in communities, public welfare homes, orphanages and in some major events. I found that volunteer work not only helps other people, but also enriched me. That is why I am striving to make the Bean Sprout's Volunteer Service a permanent volunteer project," said Shan Xizheng at the launch ceremony.
"The Bean Sprout's Volunteer Service has attracted the attention of people from all walks of life in Hegang, with 46 people signing up in just two weeks. According to the latest figures, Hegang has a total of 434 left-behind children, among them, there are 247 aged between 6 and 13. The reality is that there are countless lonely hearts, and the Bean Sprout's Volunteer Service can help more and more left-behind children find loving and caring homes," said Shi Shuyun, the director of Spiritual Civilization Office of Hegang.
One left-behind child, Lu Fan said, "Today, the Heilongjiang Bean Sprout's Volunteer Service has walked into Hegang, and set up the Hegang Bean Sprout's Volunteer Service Team. I believe we will no longer be lonely because the volunteers will become my relatives. I have to learn how to be a strong and optimistic person, and I hope that I will one day become a member of the Bean Sprout's Volunteer Service so I can help more left-behind children like me."
Following the ceremony, Shan Xizheng and the Hegang Volunteer Service Team met Li Yufeng, a 9-year-old left-behind child studying in the 24 Middle School of Hegang. Li Yufeng came from a single-parent family, and his mother has to go out to work to support the family. Shan and the Hegang Volunteer Team donated 1,000 yuan, and pledged to provide Li Yufeng with long-term ongoing care in the future.
Shan Xizheng believes the plight of left-behind children is not just a problem for China, but for the whole world, and should be better studied by academics.
Through their volunteer activities, and by getting to know the problems faced by left-behind children, Shan hopes that they can find effective ways to solve their problems, and stop the cycle of poverty across generations.
Shan plans to detail their experiences in the hope that it will provide vital information for future research, so that sociologists can help left-behind children make a greater contribution to Chinese society.
Shan and his team are also hoping to spread their volunteer activities from Heilongjiang Province, into other frontier provinces, such as Inner Mongolia Autonomous Region, Tibet Autonomous Region, Xinjiang Uygur Autonomous Region, Guangxi Zhuang Autonomous Region and Yunnan Province.