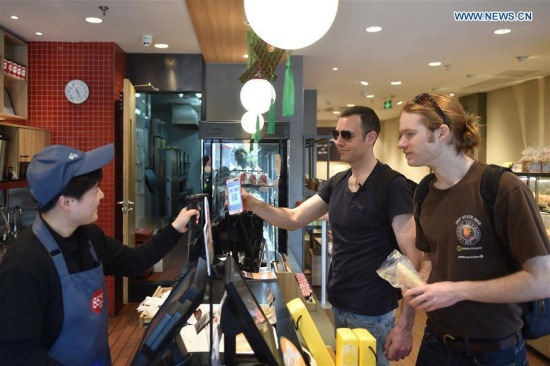 Tim Clancy (C), an Australian who has lived in Hangzhou for six years with his Chinese wife, takes his American friend to buy coffee and bread through mobile payment in Hangzhou, capital of east China's Zhejiang Province, April 14, 2017. (Xinhua/Huang Zongzhi)
Although it is the first time Laura Primiceri has visited China, the British woman has quickly adapted to cashless life in Beijing.
She was aware of the prevalence of China's mobile payment before her arrival in February and downloaded WeChat and Alipay, the two most popular mobile payment services in China.
"I use them here for payment quite frequently. It's much better than what we use in England," Primiceri said.
During five months studying in Beijing, the overseas student learned that the cashless trend was now taking hold in the country with mobile payment often a daily necessity.
IRRESISTIBLE TREND
"The cashless society is what we are moving toward," said Xiao Ligang, a cab driver in Beijing, "It is irresistible."
"Almost every taxi driver I know is using WeChat Pay," Xiao said.
Unlike paying with credit cards in western countries, China's cashless payment refers to mobile payment on smartphones.
In Beijing, even senior citizens buy vegetables at the community market with their smartphones; office workers pick up colorful shared bicycles after scanning their QR codes; and street artists provide QR codes for donations.
Whether it is making an appointment to see a doctor, ordering take-away from a restaurant, or buying a ticket at home for a film that is about to begin, Beijingers can do it on their smartphones.
"Mobile payment saves a lot of time for us and help us effectively avoid counterfeit money," said Ren Tingting, a cashier at Century Mart, a chain supermarket in Beijing.
Global leading coffee shop chain Starbucks has eyed the huge number of mobile payment users in China and partnered with Chinese Internet giant Tencent to make WeChat mobile payment available in all its coffee shops in China.
MORE CASHLESS CITIES
To expand its cashless service, Ant Financial, the financial affiliate of e-commerce giant Alibaba, plans to launch a cashless promotion week from Aug. 1 to 8, when China will be "1,698 days away from being a true cashless country," it claims.
Chen Liang, senior PR director of Ant Financial, said the company had signed with the governments of four other cities: Wuhan, Fuzhou, Tianjin and Guiyang, to promote city-wide cashless support solutions.
"The Cashless City Promotion means mobile payment can reach all the places where cash is needed," Chen said, adding that mobile phone users would no longer have to worry about whether they have cash on them.
By the end of 2016, Alipay's e-payment solutions had covered 357 Chinese cities, where people can use it for paying all kinds of bills ranging from car maintenance and medical bills, to bus fares, train tickets and even to buy pancakes for breakfast at the local market stall.
Going cashless has also become normal for Tibetans. Restaurants, souvenir shops and movie theaters in Tibet all provide online payment services. QR codes have become common on vendor booths selling Tibetan jewelry.