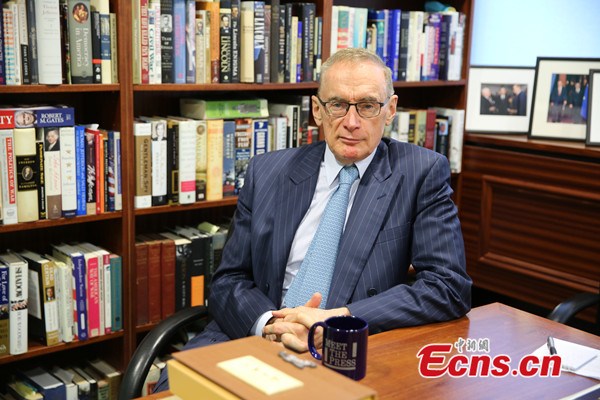 (Photo: China News Service/Shelan Tao)
(CNS)--"If you use a word to illustrate the changes in China over the past five years, in my opinion, that is: affluence." Australia's former foreign minister Bob Carr told the China News Service (CNS).
Bob Carr was a premier of the New South Wales and was the longest-serving premier in the history of the state. From March 2012 to September 2013, he served as the Australian Foreign Minister. After May 2014, he is the Director of ACRI,the University of Technology Sydney in Australia (UTS). He studies international relations, foreign policy, China's political, economic, national defence and security issues.
"Over the past five years, every person who has been to China can feel the biggest change, that is, the change brought about by urbanization. China has become more and more modern, more and more beautiful and much improved infrastructure. Last month I brought six journalists to China for two weeks, many of them have never been to China, and we went to Chongqing, Wuhan, Hangzhou as well as Beijing. "Feeling very good is everyone's common view." Bob Carr said.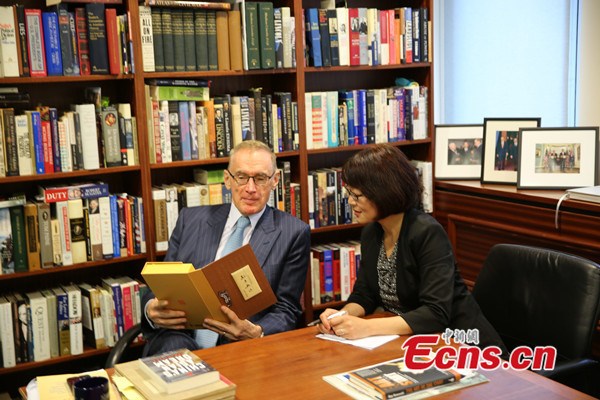 (Photo: China News Service/Shelan Tao)
At age of 70, with a pair of sharp eyes, Bob looks full of energy and well presented. As a politician, he saw the change of China is not just the surface of prosperity. In his view, China's more important change is its foreign policy become more and more confident. China's global thinking and global role is changing and began to integrate more into the global foreign affairs. "Belt and road initiatives(BRI)" is a good example of this point; it demonstrated China's foreign policy become more mature and more self-confidence. BRI is now the narrative of China's foreign policy.
At the same time, Bob Carr believes that although China's role in international affairs and status is rising, they do not want to overthrow the existing international order, they want to working within the existing international framework. "I do not think that China is a revolutionary force to destroy the existing order," he said, "China's current foreign policy has become more global and more mature. China is taking on more important responsibilities in the existing international order, tasks, and plays a significant role. "