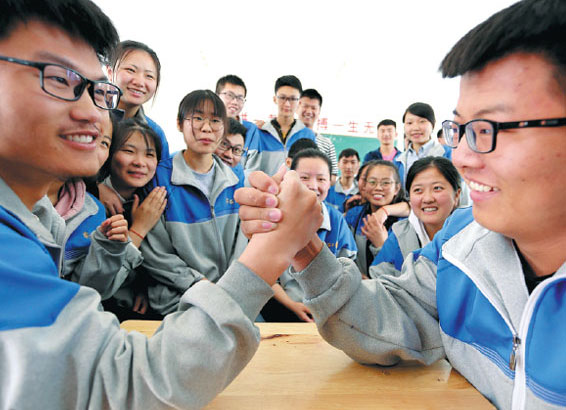 Students at No. 2 Middle School in Donghai county, Jiangsu province, seek diversion on Tuesday from the pressure of the upcoming gaokao, the national college entrance exam.Zhang Kaihu/for China Daily
Eighteen-year-olds in Shanghai and neighboring Zhejiang province who are taking this year's gaokao will have the task half finished even before the highly competitive college entrance exam begins this week.
For the first time, the exams will cover only Chinese, mathematics and English on Wednesday and Thursday - the exams for the other three, minor courses were already finished by April.
This is one of the changes introduced in the pilot gaokao reform in Shanghai and Zhejiang, which may be extended to other parts of the country.
Every year in China, about 9 million students take the gaokao, a one-shot exam vital to students getting a college education that will later help them compete in the tough job market. Some see it as the only way to ensure their futures.
As part of the reform, students can take the exam on minor subjects twice, and the higher score will be counted for their overall gaokao grade. Those exams are held twice a year, in April and October.
Students are free to choose the three minor courses out of a total of seven - physics, chemistry, biology, technology, politics, history and geography.
Before the reform, Shanghai and Zhejiang students had to take exams in a combination of politics, history and geography if they opted for a liberal arts education and had to brave a combination of physics, chemistry and biology if they selected science.
Teachers said it is a good idea to break down the walls between art and science.
"It encourages students to gain exposure to knowledge in different fields, which benefits their well-rounded development," said Wang Yunfan, who teaches English to seniors at Hangzhou No 2 High School, in Zhejiang province.
Many educators believe the reform vastly improves the gaokao system and gives the students more opportunity to succeed.
Some parents, however, said the change has kept them anxious throughout the past three years because it prolongs the battle of preparation and testing.
Xiang Yin, whose daughter is a high school senior, disagreed.
"Perseverance and the psychological ability to deal with ups and downs are two important elements in their studies, and in their career and life in the future," the Shanghai father said.
Students' performance at school and participation in social activities will also be put on record for reference.
"So students are encouraged to go to local communities, hospitals and even jails with their tasks and research topics and try to find solutions, which is also a good way to cultivate and examine their comprehensive abilities," said Cao Zi, a teacher at a senior high school in Shanghai's Xuhui district.