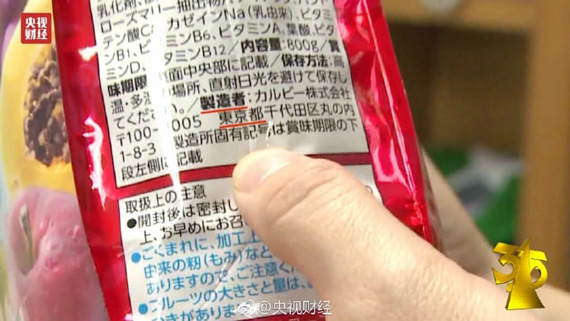 Products from Japan's Fukushima and the nearby areas are found sold in China. (Photo/CGTN)
The annual "3.15" gala produced by China Central Television lifted its curtain on Wednesday to mark World Consumer Rights Day.
With undercover reports, the gala exposed cases in which many companies and brands have violated consumers' rights.
Here are the highlights from the gala:
Foods from Japan's radiation-affected area
Radiation has continued to affect products from Japan's Fukushima and the nearby areas six years after the massive earthquake and the tsunami hit the Fukushima Daiichi nuclear plant in 2011.
Foods from Japan's high radiation-affected areas were found in the Chinese market. These products were sold in several stores, including some large Chinese e-commerce platforms, Muji stores, and Aeon stores.
Some retailers hid the origin of the product by using vague labels. For instance, a product made in the Tokyo prefecture was found in Muji with a new label stating "made in Japan" on its package. However, China has banned imports of food from the area.
Over 13,000 online shops were suspected of selling the contaminated foods, and local authorities have worked to prevent the radiation-affected goods from flowing into the Chinese market.