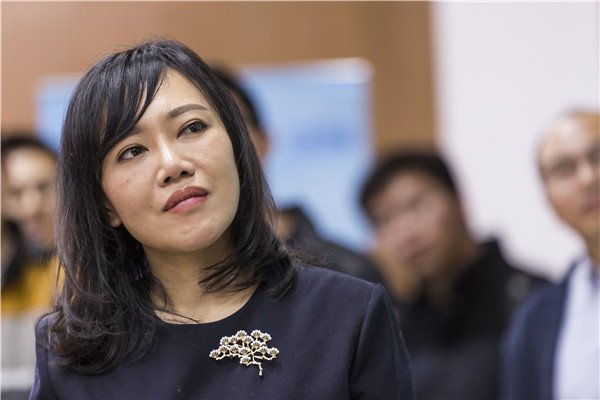 Zhang Yueran, one of the representative writers born in the 1980s, is noticeable for her new release The Cocoon. (Photo provided to China Daily)
With many international awards, literary works from the mainland made a mark on the international stage last year.
Chinese novels came of age in 2016 bagging many international awards, as in the case of children's literature writer Cao Wenxuan winning the Hans Christian Andersen Award, Hao Jingfang taking the Hugo Award after Liu Cixin, the first Chinese winner of the award in 2015, and Wang Anyi grabbing the 2017 Newman Prize for Chinese Literature from The University of Oklahoma in September.
Veteran literary critic Meng Fanhua says 2016 was a big year for novels and he says that the power of Chinese stories come from the rural areas, "where we have the strongest literary traditions".
Another veteran critic Bai Ye, who is with the Chinese Academy of Social Sciences, says that while traditional and established novel writers continue to produce works, younger writers who were born in the 1970s, '80s and '90s are also gaining ground.
"Every year there are about 5,000 novels published in the country. But, this year, I noticed writers are more keen to reflect the pulse of the society, and their writings are close to everyday reality and easier for general readers to accept."
Bai, who produces an annual report on Chinese novels, also says that rural life is one of the key elements in the books published last year, and adds that as urbanization spreads, the nostalgia for rural life grows as seen in Jia Pingwa's work The Jihua Flower.
The novel, about an abducted girl and her plight, stirred a debate about gender equality soon after its release in March.
Other themes that writers tackled last year were urban life and history.