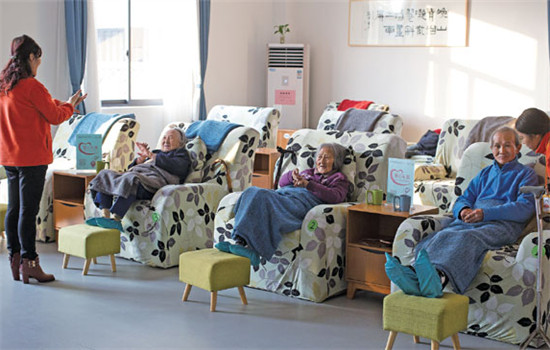 Wuzhen Chunxitang Seniors Service Center currently has more than 4,000 registered senior members.(Photo/China Daily)
Seniors enjoy medical care, clubs catering to their interests
After enjoying cupping, an acupressure technique of traditional Chinese medicine, at Wuzhen Chunxitang Seniors Service Center, Qiu Xiuying went to the dining hall for her supper.[Special coverage]
Though Chunxitang has been in operation for a year, Qiu, 73, only recently registered at the center, which now has more than 4,000 registered senior members in the town.
With a digital card given by the center to each member, the seniors can enjoy more than 80 specific services at the center or four branches in the three local communities and a village.
"Some services have to be paid for, while most of them are free", said Dai Yong, vice-president of Chunxitang, a company headquartered in Shanghai which established the center in Wuzhen in 2015.
The cupping service costs Qiu 30 yuan ($4.4) each time, and she had deposited money eight times in advance for a month of treatment.
If she wants, Qiu can also join some specific clubs such as a dancing group, but Qiu said she still needs sometime to find out what she really likes.
Qiu's husband died five years ago and her two daughters do not live with her, so she enjoys the community spirit the center offers her.