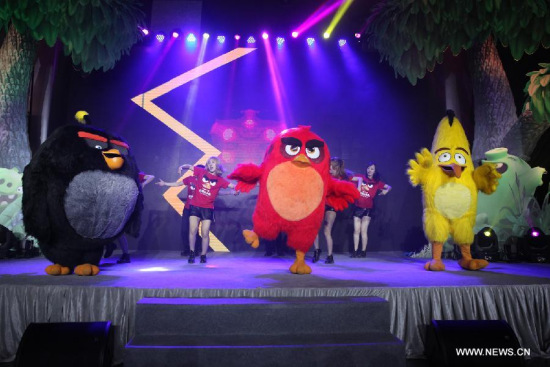 Guests dance with characters from the animated film "The Angry Birds Movie" during its premiere in Beijing, capital of China, May 17, 2016. (Photo/Xinhua)
Sony's "The Angry Birds Movie" flew to victory at the North American box office over the weekend, beating "Captain America" to second place, according to preliminary industry estimates Sunday.
Based on the popular series of video games, "The Angry Birds Movie," which featured an all-star cast of voice actors, took in an estimated 39 million U.S. dollars in 3,932 theaters in the United States and Canada at its opening weekend, according to box office tracker comScore.
The 3D animated production featuring a trio of flightless birds -- Red, Chuck and Bomb -- handily topped two-time champion, "Captain America: Civil War," the superhero sequel from Disney's Marvel Comics franchise.
"The Angry Birds Movie" received "B+" rating from first-night moviegoers on CinemaScore, as well as 43 percent of positive rating from critics on RottenTomatoes.
Internationally, the movie, which was in its second weekend of release, brought in an estimated 55.5 million dollars from 83 total markets in three-day weekend, bringing its international gross to 112 million. China film market has contributed 29.2 million dollars.
"Captain America: Civil War," the action-packed blockbuster, stayed powerful, raking in another 33.1 million dollars over the weekend for a cumulative total of 347.4 million after just three weeks in theaters.
In third place was the comedy "Neighbors 2: Sorority Rising," which made 21.7 million dollars in its opening week.
Fourth place went to another film making its debut this weekend, "The Nice Guys," starring Russell Crowe and Ryan Gosling, which took in 11.2 million dollars.
In fifth place was Disney's "The Jungle Book," with 11 million dollars in its sixth week of release.
Rounding out the rest five out of 10 most popular films were "Money Monster" (7 million dollars), "The Darkness" (2.3 million), "Zootopia" (1.7 million), "Huntsman: Winter's War" (1.2 million) and "Mother's Day" (1.1 million).