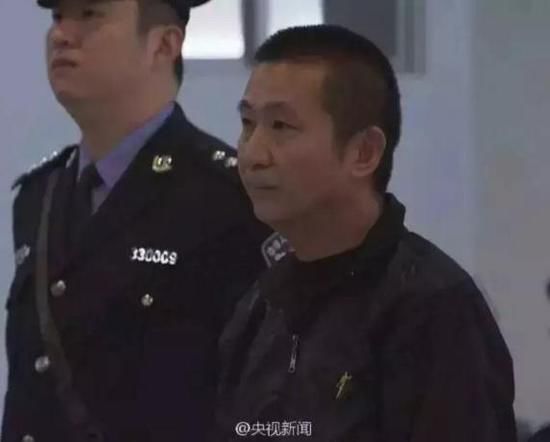 Chen Man (R) (Photo/CCTV Sina Weibo)
Wrongly convicted of murder and arson, Chen Man, who served 23 years behind bars, was awarded compensation of 2.75 million yuan ($429,000 dollars) on Friday.
Yan Xianwen, spokesman for Hainan Higher People's Court, said that 1.85 million yuan was compensation for wrongfully deprivation of personal freedom for 8,437 days, based on the standard daily per-capita income. The rest was for emotional harm.
Chen was released in February, aged 53, and filed a claim for 9.66 million yuan (about $1.48 million dollars) in compensation in March.
Demand included 1.85 million yuan for deprivation of personal freedom, 3.71 million yuan for loss of work, 3 million yuan for emotional harm, 1 million to cover his legal costs over the past two decades, and 100,000 yuan for medical costs.
"I am disappointed by the final amount, but I accept it," said Chen.
He said he did not want to "waste more time and energy on further appeals." He only wanted a normal life and will try to find a job.
The consultation mechanism for compensation for wrongful conviction has recently changed to allow victims to take part in negotiations.
Chen was arrested at the end of 1992 and sentenced to death with a two-year reprieve by Haikou Intermediate People's Court in November 1994, a sentence deemed "too light" by prosecutors who called for immediate execution, a request finally rejected by Hainan Higher People's Court in 1999.
The victim Zhong Zuokuan, Chen's landlord, was killed on Christmas Day 1992. Chen had argued with Zhong over the rent and had been asked to move out. The procuratorate wrongly alleged that Chen had hacked Zhong to death with a kitchen knife and set fire to his body.
On the orders of the Supreme People's Court, a high court in East China's Zhejiang province reopened Chen's case in 2015, as "his role in the murder is not clear and the original judgement lacks evidence."
The Zhejiang court quashed the conviction after finding a number of failings. Chen's confession was inconsistent, switching many times from admission of guilt to denying the charges and back again. His statements on the timing, methods and weapon used were not consistent with the crime scene investigation, forensic report or testimony of witnesses. Chen claimed that some of his confession was extracted under torture.
China is working on miscarriages of justice, as a number of wrongful convictions have raised public concern.
Among the most prominent cases, an 18-year-old man was found guilty of rape and murder by an Inner Mongolian court in 1996 and executed. He was posthumously acquitted in December 2014. His parents received state compensation of more than 2 million yuan (about $310,000 dollars).