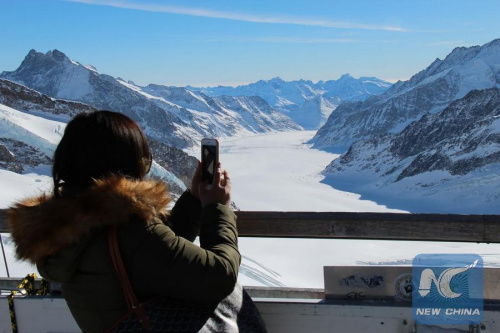 A Chinese tourist takes photos of the Aletsch Glacier at the foot of the Jungfrau on Jan. 23, 2016. (Photo: Xinhua/Nie Xiaoyang)
Overnight hotel stays of Chinese tourists in Switzerland increased by 33.3 percent year-on-year in 2015, making China the fourth most important foreign source market for Swiss tourism, according to statistics released by Swiss Federal Statistical Office on Tuesday.
In 2015, the hotel sector registered 19.6 million overnight stays by foreign tourists in Switzerland, a decline of 1.7 percent compared to 2014. Due to factors such as the strong Swiss franc, European overnight stays declined by 1.2 million.
With a total of 11.8 million overnight stays in 2015, Switzerland witnessed the lowest number of overnight stays by European customers since 1958.
By contrast, Asian countries registered record growth in 2015 with an additional 744,000 overnight stays (18.6 percent increase), and exceeding the four-million mark for the first time.
The greatest absolute increase in overnight stays came from Chinese visitors with an additional 344,000 overnight stays.
In 2015, the number of overnight stays by Chinese tourists reached an all-time high of 1,378,434, making it the fourth most important foreign market source for Swiss tourism after Germany, United States and United Kingdom.
Top destinations for Chinese tourists were Luzern, Interlaken, Zurich, and Geneva, according to the Swiss National Tourist Office.
With regard to the Olympic Winter Games in Beijing in 2022, a boom of winter sports in China and more Chinese winter guests for Switzerland are also expected.
Veronique Kanel, spokeswomen from Swiss National Tourist Office, told Xinhua that winter sports for Chinese tourists was a niche market for tourism in Switzerland. Currently, the majority of the Chinese guests visit Switzerland during the summer.
"In 2014, only about a third of the Chinese hotel overnights was registered during wintertime. By 2022, we expect hotel overnights of Chinese tourists in the winter season to reach 700,000, a 50-percent growth over the winter season 2014 to 2015," Kanel said.