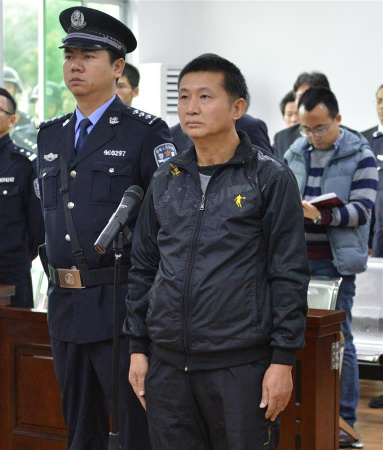 Chen Man, a man who was sentenced to death 21 years ago, listens to his sentence at a court in Haikou, capital of south China's Hainan Province, Feb. 1, 2016. (Photo: Xinhua/Huang Yehua)
A Chinese man returned to his hometown Tuesday, having spent the last 23 years in jail for murder and arson he allegedly never committed.
Chen Man, 53, arrived in Chengdu on board a redeye early Tuesday and was met by more than 20 old friends who offered to escort him home to Mianzhu, a small city 83 km from Sichuan's provincial capital.
His friends prepared a feast. One after another, they proposed toasts to his health and happiness. But Chen did not drink: after two decades in jail, he had lost his appetite for liquor.
"We never believed he could kill someone," said Wang Daibing, Chen's old friend from senior high school. He described Chen as "introverted, kind and easy-going".
Chen was arrested in 1992, accused of burning down a house in which a man died. He was later given a suspended death penalty.
But after numerous appeals, a court found a lack of evidence to sustain the verdict. When the Zhejiang court re-opened the trial in December, Chen claimed some of his confessions were made after torture.
Chen was released Monday from Meilan Prison in south China's Haikou City after his conviction was overturned.
He tried to smile on his way home. "After 23 years of struggle, I keep telling myself to control myself and relax."
He had to look carefully for scenes that still seemed familiar in his hometown. "It's been 25 years since I left."
He saw red lanterns that adorned roadside stores, spring couplets with auspicious phrases for the upcoming Chinese Lunar New Year, and even a poster expressing thanks on his behalf for the lawyers who sought justice for him.
The old home he left 25 years ago had been destroyed in a powerful earthquake in 2008 and a new house has been built in the same location.
Chen's family welcomed him home by lighting firecrackers, a tradition in Sichuan Province.
He could not hold back his tears when he embraced his mother, Wang Zhongyi, 84.
"We suffered injustice and earthquake, but all is gone. Now at last, this house will be full of laughters again," said Wang.
Chen's father, 84-year-old Chen Yuancheng, is a man of few words. His room is stacked with books and documents with appeals for his son.
The old couple have kept every single item in Chen's bedroom intact and clean, always ready for his coming home.
The tape recorder he bought in his younger days is still there, and next to it are music albums, including John Strauss.
Before he was jailed, Chen was running a home furnishing company and was dating a girl he loved.
While in jail, he tried to learn about the outside world through the newspapers and TV. "My wrongful conviction was closely related to the social and judicial environment, as well as the people's mentality in those years," he said.
But things have changed over the years, he said. "I've seen progress in the judicial system, and the corrections of other wrong convictions convinced me I will one day prove my innocence, too."
Chen said he was not planning to look back on his case. "Let bygones be bygones. I have no comment, and I trust the law."
He said he would rather look ahead. "Now that I walk free, I must make sure my heart and soul are free, too."