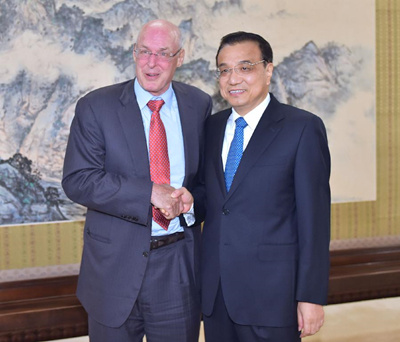 Chinese Premier Li Keqiang (R) meets with former U.S. Secretary of the Treasury Henry Paulson in Beijing, capital of China, Oct. 22, 2015. (Photo: Xinhua/Li Tao)
China has taken timely measures to cope with unusual capital market fluctuations, and has successfully forestalled potential systemic financial risks, said Premier Li Keqiang in Beijing on Thursday.
While meeting with former U.S. treasury secretary Henry Paulson, Li spoke about the turmoil in the global financial market this year and the unusual fluctuations on China's capital market, especially the stock market.
The measures taken by China were in accordance with international practice and China's own conditions, he added.
"We will continue to boost reform and institutional construction, fostering an open, transparent, stable and healthy multiple-level capital market," said the premier.
Li said China's development relied on reform and opening-up.
China has improved the way it calculates the RMB central parity rate in response to international financial market development, he said.
There is no basis for long-term depreciation of the RMB, Li added.
He said China will expand the financial reform in the Shanghai free trade zone, promote the RMB interest rate marketization, and gradually improve the RMB exchange rate formation mechanism.
"We will encourage financial innovation, boost further opening-up of the financial industry, in order to facilitate the growth of real economy," he said.
The new type of urbanization is the greatest driving force for China's domestic demand, he said, adding China should follow a path of green and sustainable development.
Li hoped the Paulson Foundation would play a positive role in bringing advanced ideas and technology to China.
Paulson spoke positively about China's financial reform measures and its free trade zones.
He said he was glad to see the stable growth of China's financial industry and increased competitiveness through opening-up.
The United States and China have broad cooperation prospects in such areas as green financing and sustainable urbanization, he said, adding the Paulson Foundation would play a positive role to this end.
Vice Premier Wang Yang also met with Paulson earlier on Thursday.