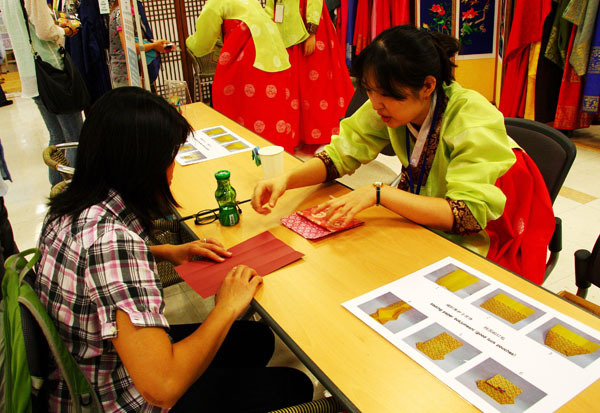 A Chinese tourist learns how to fold a Korean lucky bag at the exhibition hall of Korea Tourism Organization in Seoul. (Photo/Xinhua)
South Korean authorities are back on tour here in China, hoping to attract more Chinese visitors to bolster the country's dwindling tourism figures.
Kim Jong, South Korean vice-Minister of Culture, Sports and Tourism, is in Beijing as part of a promotional tour.
"In order to restore the tourism market, the South Korean government has exempted Chinese group tourists from paying visa fees and simplified tax rebate procedures for them."
Jong Chang Soo, head of a South Korean tourism organization, says they have been closely studying Chinese travel habits.
"Chinese tourists are more diverse than before. Stats show most Chinese travellers to South Korean are female in their 20s and 30s, while the rise in the percentage of Chinese hiking and golf amateurs visiting South Korea is also notable."
China is South Korea's largest source of tourists.
Around 6 million people from China travelled to South Korea last year.
However, Chinese travel to South Korea contracted by around 50-percent in June and July because of the MERS outbreak.