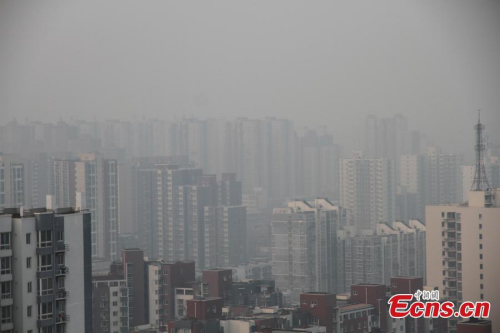 Buildings are seen amid the heavy smog in Beijing, capital of China on Saturday,January 3, 2015. According to statistics from China's Ministry of Environmental Protection, the air quality index was 186, and the level of PM2.5 was 142 as of 9 am, signaling "moderate pollution." [Photo: China News Service/ Liu Xianguo]
Cities surrounding Beijing reported fewer polluted days, but the average air quality still lagged behind other regions in April, the Ministry of Environmental Protection said on Monday.
Out of the 74 cities under its watch, seven of the ten Chinese cities reporting the worst air quality last month were in Hebei Province, which neighbors Beijing, the ministry said. The other three cities were Zhengzhou, Jinan and Changzhou.
Though Beijing and its neighboring cities in north China's Beijing-Tianjin-Hebei region saw slightly improved air quality, the proportion of their polluted days still exceeded half of the month.
In a monthly report, the ministry also listed ten cities with the best air quality, including Shenzhen, Zhuhai and Zhoushan, most of which are all in southeastern coastal areas.
The chief pollutant affecting air standard was still PM2.5, as in other months, followed by PM10.