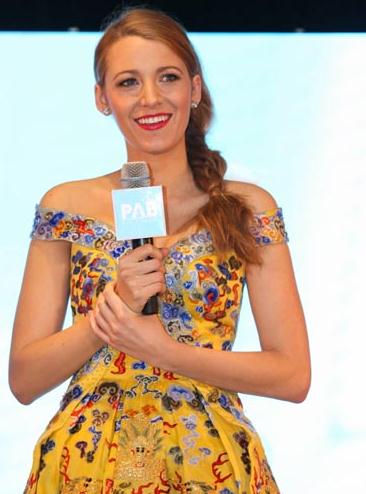 Blake Lively. (Photo provided to China Daily)
"Usually we have people fighting for people, but here you have an entity coming into its own, with a lot of philosophical concepts questioning what's happening," says Toni Piech, CEO of PAE Pictures, the producer of Log Out.
Relevant topic
"Urban angst" is the expression used by Piech to sum up this future crisis of people drifting away from each other and feeling enormously lonely.
He finds the topic particularly relevant to China. Because "it's easy to forget what's important (about life) when you run at this pace", he says of the change in Chinese society along with rapid development.
ADVERTISING3 3 "China is a place that has a lot of interesting, meaningful and clever things buried under the surface of what's happening," Piech says.
"I say they are crazy because this type of content is exactly what people here are looking for."
Brody shares Piech's vision of China's movie market.
The actor became a producer last year, with the launch of his own company, Fable House, with investments in part from Sparkle Roll Culture Media, a Beijing-based production group that's 50 percent owned by Jackie Chan, according to the Hollywood Reporter.
Growing up watching a lot of 1970s and '80s Hong Kong martial arts movies in New York's China Town area, Brody's connection with Chinese cinema has strengthened in the past few years with his major appearance in director Feng Xiaogang's historical epic 1942 and Chan's latest kung fu hit, Dragon Blade.
ADVERTISING3 3 Brody says his company is in the process of creating Chinese content with the sensibilities that he can bring from a lifetime in the movie industry.
"Rather than the Hollywood idea of bringing something that may fit into the Chinese market, my intention is to help China build something that has the full depth of storytelling, with the infrastructure and the might that this nation has to bring those ideas to creation, and have that appeal to the world market."