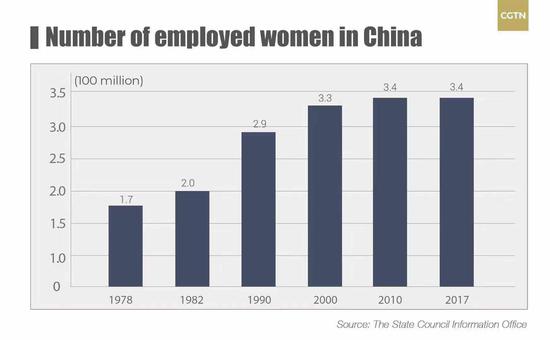 The number of working women in China reached 340 million in 2017. (CGTN Photo)
Though outright discrimination against women is rare, implicit bias that deny women equal opportunities still exists. For example, it's not uncommon to see companies list "male-only" in their job advertisements. The latest breakthrough came when China issued a notice earlier this year banning employers from inquiring about female applicants' marital and childbearing status.
Apart from institutional support, what also drives the improvement in women's situation is an emphasis on education.
Before the country was founded, 90 percent of Chinese females over the age of 15 were illiterate. Due to the traditional gender preference for males in rural areas, the limited amount of family income was mostly reserved for a boy's education.
A 1998 Higher Education Law expanded university enrollment and offered more generous loans and scholarships for poorer students, enabling women to go to colleges without being putting a financial strain on their families.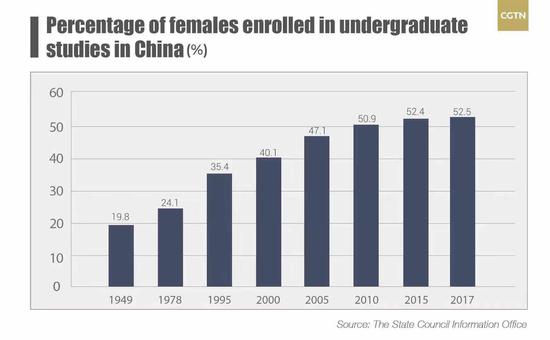 Women enrolled in undergraduate studies in China are on a steady rise. /CGTN Photo
Women are graduating from universities in greater numbers than ever before. Official figures in 2017 show that female students enrolled in undergraduate studies outnumbered male students for nine consecutive years. More girls are also embarking on careers in sciences, technology, engineering and math.
Today, Chinese women are a formidable presence in almost all walks of life. Their success stories show that with legislative efforts and women's determination to succeed, the glass ceiling hanging overhead can be shattered.