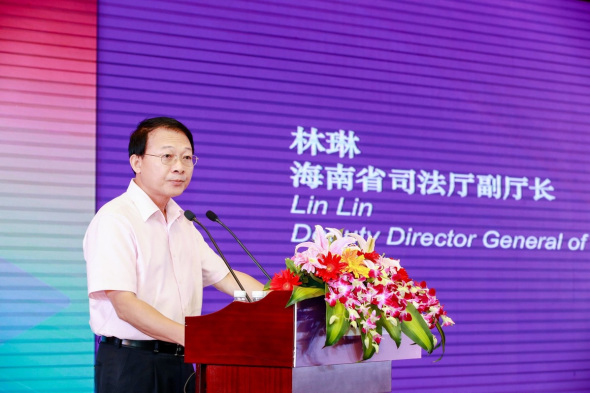 Lin Lin, deputy head of Hainan Justice Department office, speaks at Denton's Boao Forum. (Photo provided to chinadaily.com.cn)
China should take cautious steps to promote financial innovation amid efforts to promote opening up in Hainan province, according to law experts.
Speaking at Denton's Boao Forum held over the weekend in Boao, Hainan province, Lin Lin, deputy head of Hainan Justice Department office, said efforts to promote opening up should be implemented under well-established legal frameworks.
Du Hong, a lawyer with Jiangsu Duhong Law Firm, said financial reform expected to roll out in Hainan should be implemented gradually as risks may spill to other arenas at the time when regulatory frameworks at local levels are not in place.
To turn Hainan into a frontrunner in implementing financial reform, the government needs to build a regulatory environment that allows innovations to flourish while ensuring that risks can be effectively managed, according to Du.
Implementing innovation needs bottom line expectations as the nation's top financial authorities have put reining in financial risks high onto is agenda, according to Zhou Yueli, a senior partner with Denton's Chengdu office.
The comments came after President Xi Jinping unveiled his vision for globalization and efforts to promote opening up during the Boao Forum for Asia held in April.
Implementing some bold plans in Hainan is part of plans, though no detailed roadmaps have been revealed.
According to earlier announcement and government document, China will turn Hainan into a free trade port with well-established framework by 2025, where it will feature liberalization of trade and financial systems that might well exceed those implemented in the free trade zone established in Shanghai and in 10 other regions.