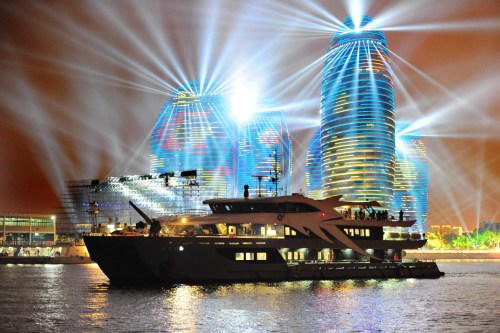 A yacht moves past the cruise ship hub in Sanya, Hainan province, during a nightly circuit in February. (Photo by Sha Xiaofeng/for China Daily)
In a speech on April 13 to commemorate the 30th anniversary of Hainan becoming a new province, President Xi Jinping drew a blueprint for the development of the island for the next 30 years. Thanks to reform and opening-up, Hainan seems set to become a prosperous province with a livable ecology, and to develop an international pilot free trade zone (FTZ) by 2020 and a free port with Chinese characteristics by 2025.
The establishment of a special economic zone (SEZ) almost three decades ago has transformed Hainan into one of China's most open and dynamic regions today. And supporting Hainan to deepen reform in the new era is a major national strategy of Xi, which will also demonstrate the advantages of socialism with Chinese characteristics.
The world economy has entered a new era of development and change, though instability and uncertainty continue to affect it. And despite globalization becoming an irreversible trend, protectionism, unilateralism and other anti-globalization practices have increased.
Countries across the world face a major choice-between globalization and protectionism, between moving forward and going backward. China chose its path, the path of globalization, years ago. In line with its chosen path, it will deepen reform in Hainan. China will also explore and implement new measures, including building a free port and creating a new platform for integrated global development, to further open up the island province.
Pivotal stage for new growth model
Four decades of reform and opening-up have liberated the social productive forces and, as the 19th National Congress of the Communist Party of China stressed, helped socialism with Chinese characteristics enter a new era. Now, the on-going transition of the Chinese economy from rapid economic growth to high-quality development presents the right opportunity to take measures to improve the economic structure, and foster new drivers of growth, of which Hainan is a part.
No wonder the CPC Central Committee has assigned Hainan a new mission: to deepen reform and further open up to the outside world, by taking measures to enhance tourism and promote innovation in institutional mechanisms.
The establishment of a pilot FTZ and a free port with Chinese characteristics will help deepen reform and opening-up in Hainan. Since deeper reform leads to further opening-up and vice-versa, the pilot FTZ and free port with Chinese characteristics, once they start operation, will facilitate institutional mechanism reform and promote the construction of a modernized economic system and high-quality development in Hainan.
China has 11 pilot FTZs, including those in Shanghai, Tianjin, and Guangdong province, which have explored administrative system reform, investment management, trade facilitation and financial innovation. And their accumulated experiences have been applied to other industrial zones in the country, reflecting China's high level of openness.
But while building Hainan's pilot FTZ, the authorities should take the island's geographical, environmental and other sensitive factors into account, and give full play to innovation. Plus, the FTZ should be encouraged to conduct bold trials and develop its own reform strategy, for it would be conducive to expeditiously developing a truly global business environment and a fair and unified market.
And since Hainan's pilot FTZ will be the largest in the country in terms of population and area, it will become an important channel for China to communicate with the rest of the world in the new era.
Highest level of openness for SEZ
Free ports allow goods, funds and people to enter and leave a country with greater freedom, with most goods being exempt from duties. The free port with Chinese characteristics to be built in Hainan will focus on the following aspects: tourism development, modern services and high-tech industries, instead of re-exports or processing and manufacturing industries.
This innovative measure of socialism with Chinese characteristics will become a precursor for comprehensively deepening reform and opening-up.
Oceans and seas have always played an important part in a country's openness, cooperation and development. Without building maritime power a country cannot be truly strong. And Hainan, China's southernmost territory known as the pearl of the South China Sea and China's "treasure island", has a wealth of maritime resources such as islands, ports, minerals and marine riches that can help China become a major maritime power. In the 30 years of its existence as a Chinese province, Hainan has made remarkable achievements in terms of marine economy, tourism and foreign exchanges, with the marine resources contributing to about 30 percent of the provincial GDP.
Moreover, Hainan has successfully hosted the Boao Forum for Asia, Lancang-Mekong Cooperation Leaders' Meeting and Roundtable Conference on China-Africa Cooperation. To deepen reform and opening-up in the new era and contribute to China's growing maritime power, the province needs to further tap into the potential of the ocean and international cooperation and exchanges.
People-oriented development
Adhering to people-oriented development is the basic principle that Hainan should follow to build a modern provincial economy, as people are the backbone of the Party and the country. Reform can gain momentum and opening-up gather force only if they are aimed at benefiting the people. More important, adhering to people-oriented development is one of the basic strategies to develop socialism with Chinese characteristics in the new era.
Economic development has improved Hainan residents' livelihoods and raised the living standards of all the ethnic groups on the island. But adequate attention has not been paid to ecological and environmental protection, human resources, social governance and basic public services. It is not only a problem in Hainan; it also reflects the principal contradiction facing Chinese society in the new era-the contradiction between unbalanced and inadequate development and the people's ever-growing needs for a better life.
So while deepening reform and opening-up, Hainan needs to safeguard and improve people's livelihoods, and inject fresh vigor and creativity into economic development to demonstrate the advantages of socialism with Chinese characteristics.
As a Chinese saying goes: "One does not have to follow a beaten path if he wishes to benefit the people, and one does not have to observe old conventions if he wishes to get things done." Xi has said reform and innovation are the fundamental driving forces of human progress, and those who reject them will be left behind and consigned to the dustbin of history. Hainan's efforts to comprehensively deepen reform and opening-up have once again shown the world that the Chinese people are engaged in self-revolution and self-reform. And the reform of Hainan is bound to become a new benchmark in the new era.
The author Bi Jiyao is vice-president of the Chinese Academy of Macroeconomic Research, National Development and Reform Commission.