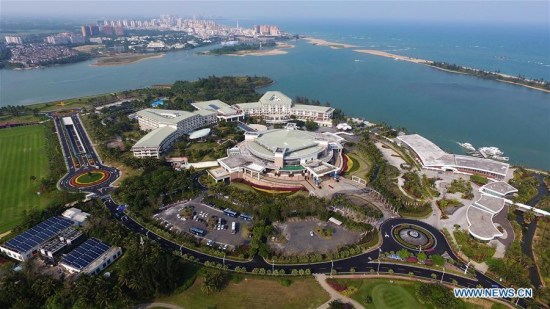 Aerial photo taken on March 22, 2018 shows the permanent site of Boao Forum for Asia (BFA) in Boao Town, south China's Hainan Province. (Photo/Xinhua)
"It's a good effort and good initiative," a senior Indonesian scholar gives positive comments on the upcoming 2018 Boao Forum for Asia (BFA), saying that it would increase understanding among countries in Asia and lead to effective cooperation and integration to achieve collective prosperity.
Besides serving as an event to seek common ground for building stronger economic cooperation, the BFA is also highly expected to give more access for transfer of technologies, said Prof. Adi Zakaria Afiff, deputy rector of University of Indonesia (UI).
BFA will be held in China's Hainan province, a strategic site related to China's Belt and Road Initiative (BRI) that remodeled the ancient Silk Road trading route.
"By putting a modern touch on it, it would not only build cooperation. More importantly it would make us understand and revisit our history, learning that we have a long history of cooperation since hundreds of years ago and it is something that we should strive for a better future," he told Xinhua in Jakarta.
The BFA, scheduled from April 8 to 11 in Boao, a town in the southern island province of Hainan, will have the theme "An Open and Innovative Asia for a World of Greater Prosperity."
Adi said that the BFA annual conference would be a moment to respond to the increasing trade protectionism.
"Economic cooperation should be fair for all countries. Trade issues can be discussed and negotiated. Discussion has played a pivotal role in global communities. BFA has a mission to develop mutual understanding. Fair global trade would benefit everyone," said the expert.
By promoting inclusive, open, mutually-beneficial and win-win solution in global economic cooperation, China's behavior is hailed by the renowned Indonesian scholar.
China is Indonesia's largest trading partner, with improving relations in the socio-cultural sector.
"I hope in the future we can build a stronger relationship through this kind of cooperation," said Adi.
"China would bring even more positive development in Asia. It would be good for the future of Asia," he said.