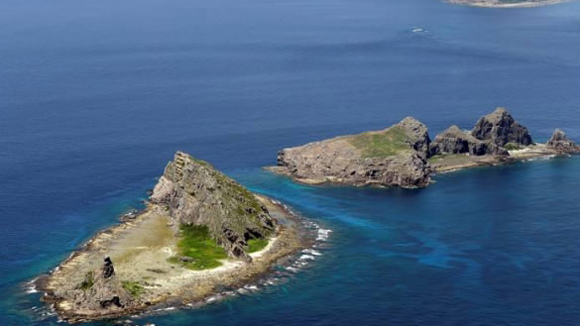 (Photo/Video screenshot from CGTN)
China has reiterated its sovereignty over Diaoyu Dao (Diaoyu Islands) after two Japanese vessels entered the Chinese territorial waters on Thursday.
Spokesperson for China's Ministry of Foreign Affairs Lu Kang said two ships from Japan's maritime self-defense force entered China's contiguous zone on the northeast side of Chiwei Yu, a small isle that is part of the Diaoyu Dao (Diaoyu Islands) on Thursday morning.
"The Chinese navy carried out whole-process tracking and monitoring of Japanese activities. At present, the Japanese ships have left the relevant contiguous zone," Lu noted.
The contiguous waters are a 12-nautical-mile band that extends beyond territorial waters.
Japanese authorities earlier said that a Chinese frigate and a submarine of unknown nationality had been spotted in the waters off the disputed islands. Japanese Defense Ministry spokesman Go Yamaguchi called on China to avoid actions that could interfere with improving bilateral ties.
Lu said that China's actions in the East China Sea are beyond reproach.
He also stressed that China's position on the Diaoyu Dao (Diaoyu Islands) remains consistent and clear, adding that the Chinese government and its people have unswerving determination in safeguarding their territorial sovereignty.
"We have also noted that some positive signals have been released by senior Japanese officials on improving China-Japan relations," Lu said.
China called on Japan to be consistent in its words and deeds, work with it in accordance with the four-point consensus issued in 2014, and make efforts to improve bilateral relations in practical terms.
China's Ministry of National Defense also expressed strong dissatisfaction with and opposition to Japan confusing right and wrong, and maintained that the action was the legal safeguard of the Chinese army.