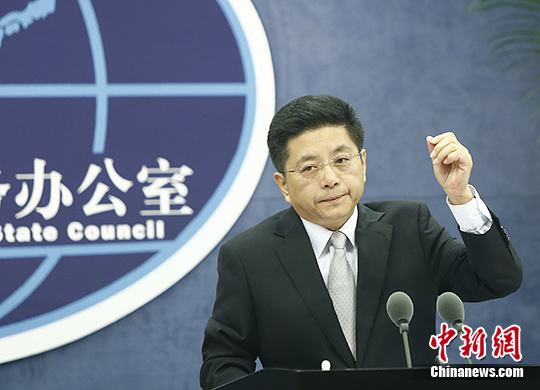 Ma Xiaoguang, spokesperson for the Taiwan Affairs Office of the State Council. (Photo/China News Service)
Taiwan authorities should abandon their hostile mentality and respect the choice of its residents, a Chinese mainland spokesperson said Wednesday.
Ma Xiaoguang, spokesman for the Taiwan Affairs Office of the State Council, made the remarks when answering a question about a Shanghai-based Taiwan native who was elected delegate to the 19th National Congress of the Communist Party of China (CPC).
Lu Li-an, an English literature professor from Fudan University who was born and raised in Taiwan, was deprived of her household status by Taiwan authorities after she attended the CPC National Congress as a CPC member in October.
"No matter what measures the Taiwan authorities take, Lu's love for her hometown and the Chinese mainland will not be damaged," Ma said. "No matter whether she has a household status in Taiwan or not, the mainland and Taiwan are both her home."
Noting she was proud of being a daughter of Taiwan and Chinese, Lu called on other islanders to take part in the great cause of realizing the Chinese Dream, when meeting reporters on the sidelines of the CPC congress.
"The experience of witnessing remarkable changes in the mainland has increased certain Taiwan compatriots' admiration and recognition of the CPC. It's very natural," Ma said.