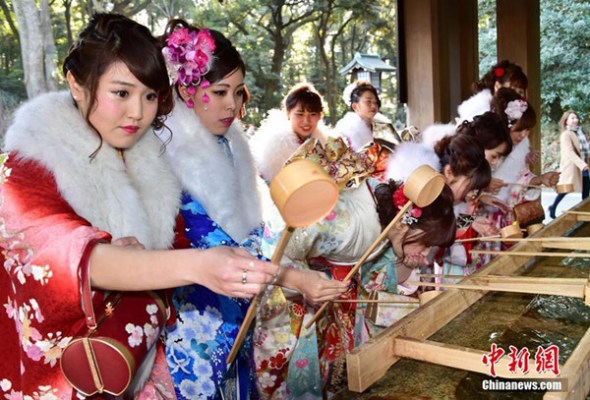 Twenty-year-old tour guides dressed in traditional kimonos attend a purification ceremony to celebrate Japan's Coming of Age Day at Tokyo's Meiji Shrine on Jan 8, 2016. Since tour guides will be busy working on Japan's national holiday Coming-of-Age Day on January 12, the company had a ceremony for them ahead of time. (Photo/Chinanews.com)
The China National Tourism Administration, the country's top tourism regulator, released a series of regulations on Thursday that clarify improper behavior and detailed punishments for tour guides. Those violating the rules could have their licenses revoked and face fines up to 20,000 yuan ($3,000), according to the new regulation scheduled to take effect on Jan 1. Beijing Youth Daily commented on Monday:
The misbehavior of tour guides ranges from coercing tourists into shopping at businesses during a tour to steering clients to forbidden activities such as gambling, drugs and prostitution. Such activities are explicitly prohibited by the new regulation.
Full implementation of the new rules will add more teeth to the tourism law enacted four years ago. Like unruly tourists, who now face being blacklisted, something that could affect their future trips even their credit records, misbehaving tour guides should also be subject to a similar blacklist system as well as receiving any of the new penalties warranted.
That said, guides blacklisted for coercing their clients to shop, verbal abuse of them and abandoning clients halfway through a tour, are less likely to repeat their mistakes after receiving both punishments and rectification orders. Those who fail to rectify their behavior should be banned from working as tour guides indefinitely.
More detailed rules are called for to supplement a series of regulations issued in 2001, which stipulated that guides who were found in violation of the law should have points deducted from their annual scores.
Encouraging quality online tourist services could be another solution. Thanks to the rise of internet-based service sector, guide-on-demand services are now preferred and there have rarely been any complaints about such services, since the "freelance guides" earn their pay largely through satisfying their clients rather than getting kickbacks.
Free of the "task" of luring customers to buy things they do not want, a popular means of gaining kickbacks, they have more incentive to offer a proper service. That the new regulation on tour guides allows "freelancers" to apply for licenses through tourism organizations instead of travel agencies only, means tourists will be better served.