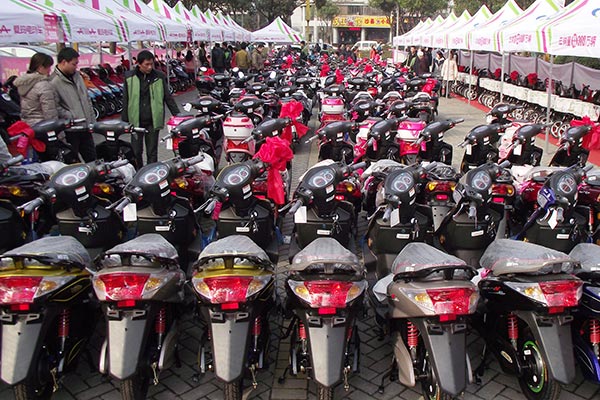 Visitors view AIMA e-bikes at a new energy expo in Nanjing, Jiangsu province. Tianjin AIMA Bikes Co Ltd is a leading e-bike maker in China, with annual sales of more than 3 million units.(ZHEN HUAI / FOR CHINA DAILY)
On Sunday, the driver of a bus in Hangzhou, Zhejiang province, reportedly swerved off the road in order to avoid hitting an e-bike that was crossing at a junction against the lights. Thepaper.cn comments:
The incident reflects a problem that is quite common in China. Some riders of e-bikes break the rules of the road and so endanger safety.
Some argue that e-bikes are the weaker side compared with automobiles so they should be given higher right of way. That sounds reasonable, but the case in Hangzhou shows e-bike riders are not always the weaker. Sometimes when they break the rules, drivers that try to avoid hitting them are in effect the weaker of the two parties.
Besides, many cities have already given e-bikes quite high rights of way. In quite a number of cities, regulations say e-bikes can travel in bicycle lanes, and can travel on the roads when there is no bicycle lane.
Yet such measures have failed to prevent e-bikes from causing one accident after another. The main cause of this dilemma is that penalties for breaking the rules are rather light.
According to the Road Traffic Law, e-bike riders face a "warning" or a fine from 5 yuan (76 cents) to 50 yuan if they break the law. Only when they refuse to pay the fine will the police be able to hold their e-bikes in custody. That is really light because e-bikes could cause quite serious accidents.
That is not to say that the drivers of other vehicles are never at fault. Drivers who break the traffic rules also face light punishments that fail to act as a deterrent to law breaking. Such a situation has already hurt the public's confidence in the law because too many road users seem to think they can break the rules with impunity, or at most a light punishment. It is time to strengthen the implementation of the law and make the penalties for not obeying it harsher.