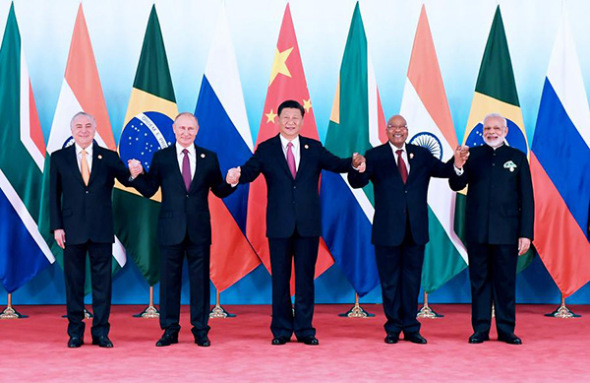 President Xi Jinping (C) and other leaders of BRICS countries pose for a group photo before the 2017 BRICS Summit in Xiamen, Fujian province, Sept 4, 2017. (Photo/Xinhua)
The 9th BRICS Summit that concluded in Xiamen, East China's Fujian province, on Tuesday has drawn the world's attention to the member nations' tremendous accomplishments and promises. The five BRICS economies-Brazil, Russia, India, China and South Africa-have experienced a combined growth of nearly 180 percent in the past 10 years. They look set to usher in another "golden decade" that will benefit people in BRICS states and beyond.
But while their GDP growth is cause for celebration, there is a glaring health problem that needs to be a priority for the emerging economies that are home to about 44 percent of the world's population: The people in the five countries are among the most vulnerable to tuberculosis, according to the World Health Organization.
The BRICS nations combined account for about 50 percent of all cases of TB in the world, according to the WHO's latest Global Tuberculosis Report. The BRICS nations also account for 40 percent of all TB-related deaths, according to a previous report by WHO, which estimated that 1.4 million people died of TB globally in 2015.
As TB is widely known as a disease of poverty, the threat, if not addressed, could push individuals, families and communities into destitution, suffering and debt, denting that dream for a BRICS "golden decade".
It is reassuring to note that at both the 6th BRICS health ministers' meeting in New Delhi last year and the seventh such gathering in China's Tianjin in July, officials agreed to set up a BRICS-wide network on TB research and create an R&D consortium on TB, HIV and malaria. These efforts mean the BRICS health authorities have realized the importance of pooling resources to address their common malady. The challenge is how to make the plan successful.
WHO has urged each of the BRICS countries to continue to innovate and to ensure that future global tuberculosis strategies set ambitious but achievable targets. International fundraising should be listed among the priorities, as WHO has pointed out that BRICS countries, except India, rely mostly or exclusively on domestic funding. Yet India's spending per TB patient is the least among BRICS countries, The Hindu reported on March 18.
It's laudable that Jim O'Neill, former Goldman Sachs economist who coined the term "BRIC" in 2001, proposed that BRICS collaborate on health issues, particularly infectious-disease prevention, and with that, funding for new TB drugs. O'Neill said that by 2050 about 10 million people could be dying of antimicrobial resistance-related illnesses each year.
"Approximately one-third of these would be TB-related, and all five BRICS countries have a significant TB challenge. What better policy initiative could there be to finance the search for new TB drugs?" he wrote on huffingtonpost.com just before the BRICS summit.
Researchers at the US Centers for Disease Control and Prevention forecast in July that the proportion of TB cases that don't respond to one or more antibiotics will become far more common in Russia, India, the Philippines and South Africa by 2040. In addition to funding for new drugs, there also should be concerted efforts to close the diagnostic and treatment gaps that exist among the five countries.
President Xi Jinping, speaking at the BRICS Business Forum on Sunday, said, "BRICS is not a talking shop, but a task force that gets things done." He noted that the five countries are engaged in practical cooperation across the board, covering several dozen areas, including health.
For the well-being of the people and BRICS' prosperity, let's hope we get the TB threat done with as soon as possible.
The author, Zhao Huanxin, is deputy editor-in-chief of China Daily USA.