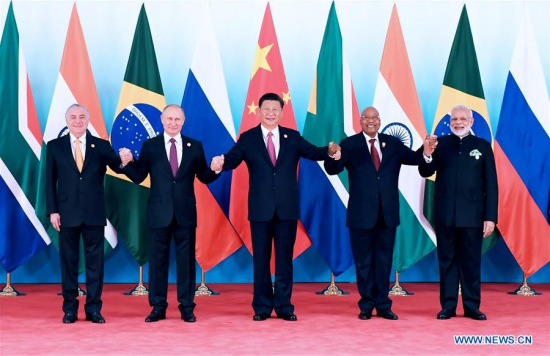 Chinese President Xi Jinping (C) and other leaders of BRICS countries pose for a group photo before the 2017 BRICS Summit in Xiamen, southeast China's Fujian Province, Sept. 4, 2017. (Xinhua/Zhang Duo)
The just-concluded BRICS summit in southeastern Chinese city of Xiamen highlights the strong conviction and consensus of the group's five member countries to make a difference in the world in the next decade.[Special coverage]
The ninth summit of the leaders of Brazil, Russia, India, China and South Africa, or BRICS, closed on Tuesday with a blueprint mapped out to chart the course of the emerging market group to achieve common development and play a bigger role in international affairs while opposing protectionism.
The momentous event has officially ushered in a second decade of the grouping, which accounts for about 42 percent of the world's population and contributed more than half of global economic growth in the past decade.
Considerable progress, the founding of the New Development Bank in particular, has been achieved through practical and mutually beneficial cooperation among BRICS countries over the past decade. Their combined economic share in the world's total has almost doubled to 23 percent.
Currently, the global economy is undergoing adjustments with a rising trend of de-globalization and protectionism. A more just and equitable international order remains beyond reach, despite some progress.
With the economic slowdown, most BRICS countries face urgent structural reforms. At this crucial stage, the challenges and opportunities underline the significance of the Xiamen summit to provide solutions, and outline the direction and priorities for the group's new era.
It is the first time that Chinese President Xi Jinping has chaired the BRICS summit, sharing his vision on the group's past and future and calling for greater efforts to "comprehensively deepen BRICS partnership."
The summit has shown the will and means of BRICS countries to seek more pragmatic cooperation, play a more active part in global governance and increase the voice and representation of emerging market and developing countries -- the main engine of world economic growth.
Openness delivers progress. China, host of the summit, has injected new vitality into the mechanism by putting forward the "BRICS Plus" approach, inviting leaders of five other developing countries from across the globe to hold dialogues with BRICS leaders during the event.
The move will expand the BRICS circle of friends. With broad partnerships, the group can evolve into a more influential platform for South-South cooperation, to contribute significantly to implementing the 2030 Agenda for Sustainable Development, including eliminating poverty.
Rather than losing its luster as claimed by short-sighted, misleading observers, BRICS can make a big difference to deliver benefits to people of the five countries and beyond.