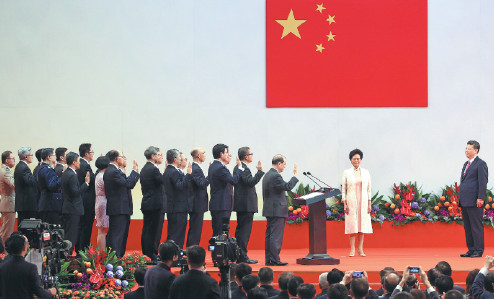 Principal officials of the fifth-term government of the Hong Kong Special Administrative Region take their oaths before President Xi Jinping (right), while newly installed Chief Executive Carrie Lam Cheng Yuet-ngor (second from right) looks on, at the Hong Kong Convention and Exhibition Centre on Saturday. (Photo by XU JINGXING/CHINA DAILY)
Carrie Lam Cheng Yuet-ngor writes 'one country, two systems' has been at the heart of the SAR's success in the past 20 years and will continue to power its prosperity over the next 20 years and more
The Hong Kong Special Administrative Region turned 20 yesterday. It was a memorable day, not just for Hong Kong but for our entire country.
Hong Kong's "one country, two systems" framework has been at the heart of our success these past 20 years and it will power Hong Kong's prosperity over the next 20 years and more.
Thanks to "one country", Hong Kong has benefited enormously from the Chinese mainland's rapid rise as a global economic force and its unswerving commitment to our city and its people. And the "two systems" has ensured that our international outlook, connections and exchanges have continued to grow and mature in all manner of areas, including commerce, finance, trade, culture and tourism.
Inspiring confidence
Nothing inspires cooperation more than confidence. In Hong Kong's case, it is the rule of law that brings confidence to companies, large and small, from all over the world. The rule of law, together with the independence of our judiciary and the transparency of our legal system, reassures companies keen to trade with Hong Kong, to set up offices in Hong Kong. They use Hong Kong as a regional base from which to target the boundless markets of the mainland and the rest of Asia.
Boosting business
Hong Kong's free enterprise system is a perfect complement to the rule of law. Earlier this year, the United States-based Heritage Foundation named Hong Kong as the world's freest economy-for the 23rd year in a row-in its annual "Index of Economic Freedom" report. Among the report's 12 measured components, Hong Kong ranked first in Fiscal Health, Trade Freedom and Financial Freedom among the 180 economies covered in the report. The foundation also recognized Hong Kong's high-quality legal framework, low tolerance for corruption, efficient regulatory framework and open markets.
There's more behind our "wide open for business" sign. Hong Kong attracts a world of companies-nearly 8,000 at last count, including 75 of the world's largest banks-thanks to its free flow of information and talent, minimal red tape, level playing field for business and low and simple tax regime.
It's no wonder that the World Competitiveness Yearbook has ranked Hong Kong No 1 in the world for the past two years in a row. The yearbook is an annual publication of the Swiss-based International Institute for Management Development. Hong Kong finished fourth among the easiest places to do business in the World Bank's "Doing Business Report 2017".
Raising capital
We're certainly among the easiest cities in the world to raise capital. Our stock market has topped the world in initial public offerings for the past two years. It's also enabling Hong Kong's gateway role to mainland markets, while smoothing the way for mainland investors to invest in Hong Kong-listed companies. Indeed, more than 1,000 mainland companies are listed on our stock exchange. They account for more than 60 percent of its total market capitalization. The Shenzhen-Hong Kong Stock Connect, which debuted last December, and the Shanghai-Hong Kong Stock Connect, launched in 2014, are further expanding our financial cross-fertilization with the mainland. There's more on the way from Stock Connect. Bond Connect is expected to be launched later this year on a trial basis.
We have also been central to the yuan's rise as a global currency. Indeed, Hong Kong is the world's biggest offshore yuan hub, managing 70 percent of global offshore yuan payments. And the Mainland-Hong Kong Mutual Recognition of Funds Arrangement, set in motion two years ago, has only expanded our yuan fund offerings.
Connecting the world
We are, in short, both China's international financial center and the world's China financial center. Alongside the financial sector, Hong Kong is blessed with an enviable pool of multi-talented, multilingual services professionals: bankers, lawyers, consultants, accountants, advertising and communications specialists, and much more. Working together, they attract a continuing flow of capital, information, talent, business and market opportunities. Together, they make Hong Kong the "super-connector" between the mainland and the rest of the world.
Driving the B&R
It's why Hong Kong is destined to play a key role in the mainland's far-reaching Belt and Road (B&R) Initiative. We have the experience, and the expertise, to be the Belt and Road's fundraising and information management center. Equally important, we have the connections-deep and multi-layered-to serve as a Belt and Road hub for the mainland and the nations that have embraced its vast promise.
It helps, too, that we are strategically located in the Guangdong-Hong Kong-Macao Greater Bay Area, the heart of the 21st Century Maritime Silk Road. The mainland's most prosperous region, the bay area extends to 66 million people in 11 cities. The emerging regional cooperation initiative presents huge, largely untapped, prospects for Hong Kong, particularly in financial and professional services. A development plan for the bay area is in the works, and Hong Kong will, rest assured, play a central role in the collective rise of this redoubtable region.
Connecting the community
Our ability to connect, with the mainland and the world beyond, will define our future. But the vast promise they offer can only be grasped by a united Hong Kong; a connected Hong Kong. That job, connecting Hong Kong, will be at the heart of my mandate and the fifth-term government I lead. Connecting means listening, caring and responding, to the community at large. It means ensuring that ours is an inclusive and harmonious society, that we make housing, and land supply, a central commitment. That we put a renewed priority on poverty alleviation, care for the elderly and support for the disadvantaged.
A connected community is a dynamic community. And I believe we can create more opportunities by asking for less, which is why I plan to introduce a two-tier profits' tax system. I'm determined to reduce the tax burden on our small, medium and startup enterprises. They are, after all, the backbone of Hong Kong's commercial and trading success.
Educating for tomorrow
Opportunity begins with our youth, blessed with an enviable mix of local and international cultural smarts, with curiosity, energy and endless creativity. It is up to us to help them discover their inimitable gifts, to lead Hong Kong, and the world, gainfully, through this 21st century of outsized opportunity. It's why education receives the biggest share among all policy areas. Under my government, it will become even larger. I have already consulted stakeholders in education on how to spend wisely the HK$5 billion a year additional recurrent expenditure I promised during election on education. Education is also critical to the development of tomorrow's Hong Kong, an innovative and diverse economy powered by technology, by transportation and logistics, by the creative industries, tourism and more. If we are to cash in on our advantages in these and other fast-emerging sectors, we will require a great variety of specialists, specialist training and dedicated facilities. I will ensure that we deliver the education the people of Hong Kong need and deserve.
City of life
A connected city is smart and sustainable, full of life and history. And I am determined to see Hong Kong rise as Asia's green city. That includes beautifying Victoria Harbour, making our landmark harborfront accessible and universally arresting. Speaking of harborfronts, my government will fast-track the development of our West Kowloon Cultural District which occupies a 40-hectare prime waterfront site. Hong Kong's culture has long been graced by a beguiling blend of East-West traditions and trends. You see it, delight in it, in our festivals, in our film industry, in our more than 1,000 arts groups. The West Kowloon Cultural District is destined to become a dazzling international arts and entertainment destination. And that can only underline Hong Kong's role as a major arts and cultural hub.
Heritage, whether tangible or intangible, plays a key part in our distinct city fabric and much treasured traditions. Century-old historic buildings are preserved or revitalized into interesting facilities ranging from hotel to design hub. Hong Kong's social calendar is filled with festivals of different sorts, which are welcomed by local people and visitors.
A Hong Kong that is connected, that is creative, open and united, full of purpose and promise, will surely reap a rewarding future. Over these next five years, I look forward to leading my team of political officials and the civil service to realize that future.