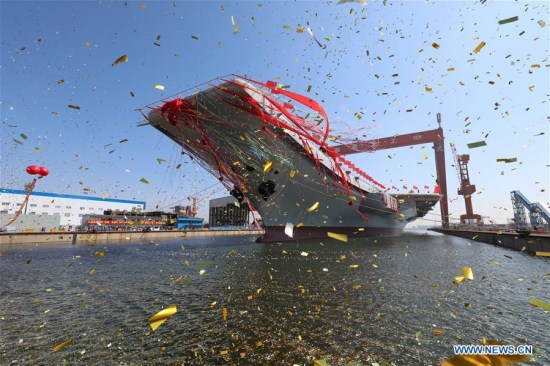 China's second aircraft carrier is transferred from dry dock into the water at a launch ceremony in Dalian shipyard of the China Shipbuilding Industry Corp. in Dalian, northeast China's Liaoning Province, April 26, 2017. The new carrier, the first domestically-built one, came after the Liaoning, a refitted former Soviet Union-made carrier that was put into commission in the Navy of the Chinese People's Liberation Army in 2012. (Xinhua/Li Gang)
In history, the rise of big powers was realized via expansion and aggression. But today, the rise of China is an exception. It is peaceful.
Unfortunately, the West never abandons its illusion about the so-called threat from China and sticks to its prejudice against China's moves of benign intention.
China launched a new aircraft carrier on Wednesday in a shipyard in Dalian of Liaoning province in northeastern China. It was the first home-made aircraft carrier of the country.
The launch of the indigenous carrier aims to enhance China's role as a defender of peace and stability in the region and the world at large.
However, the move was viewed by some Western observers as a "display of power" and an effort to "get China in the aircraft carrier game." Some media reports even compared the Chinese carrier with its U.S. peers.
On the contrary, for China, a country which strictly abides by a national defense policy that is defensive in nature, it has no intentions to project its military might to deter any country within the region and globally.
China has no interest in joining any "aircraft carrier game," either, because an arms race, as history has proven, will only bring the world to the brink of war.
China's military buildup is primarily aimed at defending its national sovereignty, territorial integrity and growing overseas interests.
Currently there are nearly 30,000 overseas-registered Chinese-funded enterprises and millions of Chinese nationals working and living overseas, while a large number of cargo ships on key international waterways are either carrying Chinese goods or somehow related to China.
Therefore, China has every reason to enhance its defense capabilities to protect its legitimate overseas interests.
Moreover, the development of China's national defense forces, including the navy, will help the country better fulfill its responsibilities of safeguarding world peace.
In fact, China's military might does not accord with its status as a major global country: It is the last permanent member of the United Nations (UN) Security Council to possess aircraft carriers.
Therefore, China's capability of designing and building a home-made carrier simply means a stride in the effort to match its military power with its economic development and defense needs.
There are more similar examples of misinterpretation and even distortions.
For instance, China's construction efforts on some islands in the South China Sea, which aim to improve the working and living conditions of the personnel on the islands, to provide better public service for ships passing the waters nearby, and to deploy necessary defense facilities to safeguard its territory, have been misinterpreted as moves to aggravate regional tensions.
Likewise, the China-proposed Belt and Road Initiative, which aims to build a trade and infrastructure network along and beyond the Silk Road Economic Belt and the 21st Century Maritime Silk Road, offers opportunities for cooperation and development for all countries amid a sluggish world economy. But the initiative has been distorted as "China's Marshall Plan."
As a matter of fact, since the People's Republic of China was founded in 1949, China has been sticking to the path of peaceful development as it fully values the preciousness of independence and peace after having suffered more than a century of imperialist aggression and oppression.
Like an old Chinese saying telling people not to impose on others what one does not desire, China will never bring other countries the agony it once suffered and remains committed to safeguarding world peace with practical efforts.
China is the biggest peacekeeping contributor among five UN Security Council permanent members in terms of number of personnel. More than 30,000 Chinese peacekeepers have served overseas since China started to participate in peacekeeping missions in 1990.
Those who assume China will deviate from its path of peaceful development and adopt an expansionist strategy are simply wrong.
It is advisable that the West discard its old-fashioned mindset of "China threat," as China's peaceful rise needs not only its own efforts but also a friendly external environemnt that facilitates coordination and cooperation from other countries.