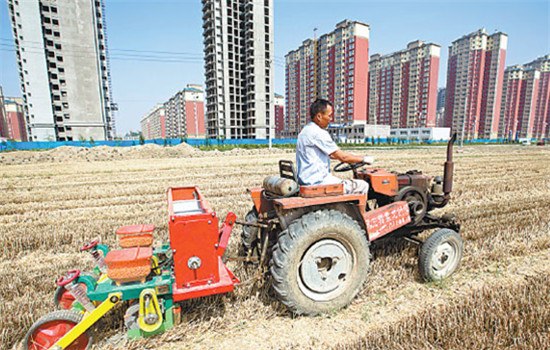 New buildings in Huaxian county, Henan province. Urbanization will play an active role in keeping the country's investment and rowth stable. (Photo provided for China Daily)
Rapidly growing cities are finding it increasingly difficult to provide their residents with core services such as housing, water, energy and transportation--a challenge that is exacerbated as the population of poor people living in urban areas grows in the world.
More than 880 million people live in slums and for millions of under-served urban dwellers, the lack of access to core services undermines economic productivity, challenges them to fend for themselves in inefficient and costly ways and risks polluting the environment.
Global housing deficit is definitely a major issue. It's a well-recognized problem that there is a lack of affordable, adequate, secure housing in well-located urban areas. However, over the next 10 years, this gap is estimated to increase by about one-third, disproportionately affecting women, children and ethnic minorities.
Given the scale of the challenge and the variability across geographies, it's important that we seek beyond traditional solutions. In its report, "Towards a More Equal City", World Resources Institute examines whether prioritizing access to core urban services will create cities that are prosperous and sustainable for all people, and outlines three potential approaches to tackling the housing challenge:
To address the growth of under-serviced, sub-standard housing, disconnected from livelihood possibilities, decision-makers should recognize in situ (in the original place) participatory upgrading-like that of Thailand's Baan Mankong program-as the optimal solution, except when there are location-based risks.
Policies at all levels often overemphasize homeownership to the detriment of residents in the informal sector. Instead, cities should consider policies that recognize and encourage rental housing for people of all income groups.
There are many instances of inappropriate land policies and regulations that push the poor out of the city. Incentivizing the conversion of underutilized land and allowing for incremental development can help make use of existing urban land and give traditionally marginalized groups well-located homes.
The housing issue never stands alone. Sustainable mobility helps create a more accessible city for all, especially when motorization is on the rise worldwide. Transport and land use planning need to be integrated, and to enable better access for all people to goods and services like education, jobs and healthcare. Often social housing is offered by cities on the outskirts of cities due to lower land prices there and lead to further inequality of the urban poor. Often the share of cost for transportation is up to 30 percent of the income. Solutions like more inclusive transit-oriented development-a combined planning of new rapid transit solution and dense development around stations-are ways to improve the situation.
An increasing number of cities are proving to be leaders by working with businesses to create holistic change. For example, New York City's PlaNYC and the Portland Plan's integrated actions on affordable housing, green space access and road safety to improve the economy, sustainability offer social inclusion all at once with the help of the private sector. In particular, many cities' participation in the Vision Zero initiative to eliminate traffic fatalities serves as a global model for creating safer cities by design.
Similarly, as the WRI report shows, Medellin in Colombia built a coalition with political leaders, the private sector and other key stakeholders to invest in education, housing policy reform, a functional public transport system and address the causes of poverty citywide. With this model of partnership, Medellin demonstrated that urban transformation is possible-but only with an integrated approach.
In the next two decades China will face the challenge of continuous population growth. Learning from the good practices around the world and following the paradigm of the New Urban Agenda we expect that further progress toward sustainable urbanization can be made. There is a need, however, to focus more on equitable access to core services including affordable housing, transportation and achieve economic prosperity and environmental sustainability for all people.
By Holger Dalkmann
The author is director of WRI Ross Center for Sustainable Cities.