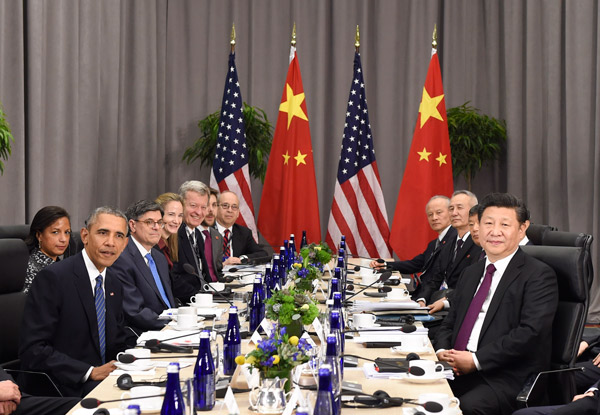 Chinese President Xi Jinping (1st R) meets with his U.S. counterpart Barack Obama (1st L) on the sidelines of the fourth Nuclear Security Summit in Washington DC, the United States, March 31, 2016. (Photo/Xinhua)
Despite the weakening of its leadership, the United States is still trying to capitalize on its remaining advantages and the political clout it enjoys in the world to maintain its dominant status in a fast-developing multi-polar era.
In fact, maintaining Washington's dominant status is a central diplomatic plank of U.S. President Barack Obama. His diplomatic policies have been wise in that they are meant to change the way American diplomacy is practiced, the essence of which is safeguarding the U.S.' dominance on three fronts: as a power, world leader and key balancing factor in a new world order.
But there are considerable disagreements within the U.S. establishment over how to achieve a Washington-dominated equilibrium in strategic principles while handling relations with rising powers. The business community, led by major multinational corporations, and financial movers and shakers on Wall Street, wants to continue with the policy of pragmatic cooperation with China as a main stakeholder. Special interest groups, comprising mainly military-industrial complexes, however, on the pretext of guaranteeing U.S. leadership and national security, advocate tougher policies against any practical or potential source of threat, and view Russia and China as the foremost strategic rivals.
The fact is, in the year of presidential election, the U.S. is seriously restrained by economic difficulties and extreme socio-political polarization at home. Ignoring this reality, however, the U.S. is stubbornly trying to maintain its hegemony in the world order. It is thus unrealistic to expect the U.S. to play a constructive leadership role in helping build a multi-polar world.
A peacefully rising China has become a major variable in the development of a new Asia-Pacific order. Sino-U.S. competition has been on the rise in recent years, essentially because of Washington's worries that Beijing might challenge its dominant position.
While the U.S. suffered serious blows in Iraq and Afghanistan and was dealt a big blow by the global financial crisis, China's peaceful rise continued almost unabated. This resulted in unprecedented changes in the two sides' comparative strengths. A major cause of the change in Sino-U.S. relations is that Washington has come to view Beijing as a major strategic rival.
In order to maintain its international dominance, the U.S. has pumped in more funds to strengthen its presence in the East Asia region, especially to bolster its military alliances with some Asian countries to counterbalance China's rise. This change has made the existing structural contradiction in U.S.-China ties more prominent, and points to a serious imbalance between high-level economic ties and low-level political and security relations.
The essence of Sino-U.S. diplomatic and military standoff over the South China Sea issue is the conflict between the goals of a rising China committed to protecting its sovereign rights to security and development and the U.S. efforts to maintain its dominance in the region. Strategically speaking, mutual distrust between Washington and Beijing has deepened and mutual vigilance and counterbalancing are escalating. But as the biggest stakeholder for each other, China and the U.S. agree they should avoid confrontation, and prevent their disagreements from harming their overall relationship.
The two sides have continued to advance broad cooperative projects. They have strengthened coordination and cooperation in coping with such significant global challenges as climate change and control of epidemics, and made other achievements. Given all these facts, one can safely say that such co-existence and interweaving of competition and cooperation will become the "new normal" in China-U.S. ties.
The author, Cui Liru, is former president of China Institutes of Contemporary International Relations.
Courtesy: chinausfocus.com