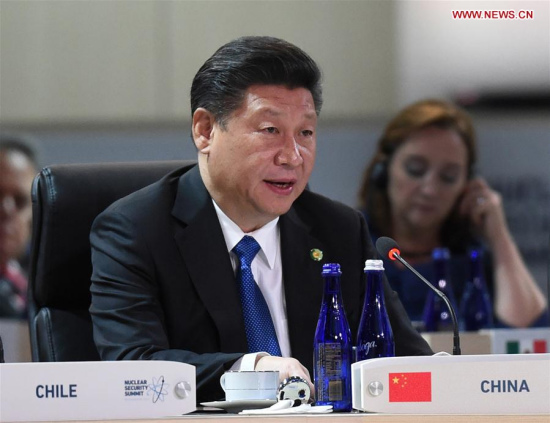 Chinese President Xi Jinping attends the fourth Nuclear Security Summit in Washington D.C., the United States, April 1, 2016. (Photo: Xinhua)
At the fourth and final nuclear security summit in Washington, world leaders have reached consensus on pushing ahead with a more robust global nuclear security architecture, vowing to make continued endeavors to tackle the threat of nuclear terrorism.[Special coverage]
Chinese President Xi Jinping said Friday that new threats and challenges keep emerging in the security field, that the root causes of terrorism are far from being removed, and that nuclear terrorism remains a grave threat to international security.
He said that a more robust global nuclear security architecture featuring fairness and win-win cooperation is the prerequisite for the sound development of nuclear energy.
Experts believed that the world has long recognized the need to stem nuclear proliferation and nuclear terrorism through international coordination, especially cooperation between nuclear powers.
NUCLEAR TERRORISM THREAT
Global nuclear security has become more challenging than ever as brutal attacks by the Islamic State and other organizations are on the rise, raising the specter of catastrophic nuclear terrorism if violent extremists get control of dangerous nuclear or radiological materials, said Sam Nunn, CEO of Nuclear Threat Initiative, an anti-proliferation watchdog.
Belgian police found a surveillance recording of a researcher at a Belgian nuclear center, when they searched the home of a suspected IS member after the Paris terror attacks in November. It was thought to be part of a plot to capture nuclear materials from the center.
"The threat of nuclear and radiological terrorism remains one of the greatest challenges to international security, and the threat is constantly evolving," reads a communique released at the end of the summit.
According to the International Atomic Energy Agency (IAEA), 442 incidents involving unauthorized acquisition of nuclear materials and related illegal acts and 714 cases of loss or theft of fissile materials have been reported to the UN nuclear watchdog by the end of 2014.
Moreover, the IAEA said recently that nearly 2,800 incidents involving radioactive materials out of regulatory control have been reported to the IAEA by member states since 1995.
ALL-WIN NUCLEAR SECURITY ARCHITECTURE
The summit communique pointed out that countering nuclear and radiological terrorism demands international cooperation and that international cooperation can contribute to a more inclusive, coordinated, sustainable, and robust global nuclear security architecture for the common benefit and security of all.
To promote international cooperation in nuclear security, Xi put forward a five-point proposal at the summit, including the building of a network for capacity building on nuclear security and supporting all countries in minimizing the use of highly enriched uranium according to their needs.
Jin Canrong, vice president of the School of International Studies at China's Renmin University, said international cooperation is needed to address nuclear security issues, and the key lies in cooperation between major countries.
He commended China-U.S. cooperation as a good example, referring to the Center of Excellence on Nuclear Security in Beijing, the largest of its kind in the Asia-Pacific region, which will provide a forum for bilateral and regional best-practice exchanges, and serve as a venue for demonstrating advanced technologies related to nuclear security.
Ruan Zongze, vice president of the China Institute of International Studies, holds similar views, saying the most important thing is international cooperation and coordination, as one country alone could not block theft and trafficking of nuclear materials.
Back in 2014, Xi pointed out that "the amount of water a bucket can hold is determined by its shortest plank. The loss of nuclear material in one country can be a threat to the whole world." Therefore, he said that increased cooperation is beneficial to all nations.
Jin warned that double standards should be avoided in the cooperation of peaceful use of nuclear energy between developed and developing countries, adding that political fairness is important.
Participants from 52 countries and four international organizations support the essential responsibility and the central role of the IAEA in strengthening the global nuclear security architecture and in developing international guidance.
The leaders also promised to implement the five action plans attached to the communique in support of the IAEA, the United Nations and other three international organizations and initiatives that reflect the political will of participating states.
The consensus among world leaders on the role of the IAEA and other international organizations will help build an enhanced global nuclear security architecture, Ruan said.